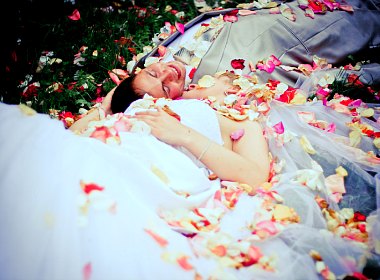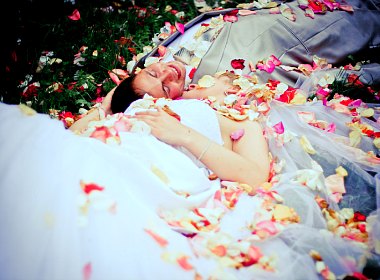 Nothing is more loved by Russians than feasts with lots of meals, drinks, and entertainment. A Russian wedding is a perfect opportunity to gather friends and family and enjoy plenty of food and merriment.
Contrary to western traditions, weddings in Russia are more about fun and entertainment than a ceremony. Because Russians tend to marry young (locals believe women should be married by the age of 24), fraternity-type quests and competitions dominate the day. It's the time to make fun of the groom and the bride, and have them fight for the right to be together.
Traditions of student weddings have a strong influence on the current typical scenario of nuptials. In fact, plenty of young men and women join in matrimony before the end of college years.
Modern couples tend to plan their weddings in the European manner. But at the same time they preserve national customs and traditions. As a result, a contemporary Russian marriage ceremony is a combination of local and Western traditions.
In 2015 there were over 1.1 million marriages registered in Russia or 7.9 marriages per 1000 people in 1 year, GKS.ru reported.
Russian wedding traditions and customs
Planning a wedding in Russia takes at least 3-6 months. Once a young couple decides to get married, things get in motion.
It's popular among Russian men to pop the question in a grand fashion. There are thousands of surprise wedding proposals on video on YouTube. Search for "предложение руки и сердца" (offer of a hand and heart) and you will be amazed how far some local grooms are happy to venture.
If the lady said "Yes", the giant work begins.
First of all, a couple's parents meet to discuss their ideas about the forthcoming celebration and decide on a budget.
Once everything is figured out, the pair starts looking for the place where the ceremony will be held. Depending on the amount of money available, they can hire a wedding planner or just a host for the party.
The place for the happy event is also significant. There are dozens of options to choose from:
Cozy cafe
Beautiful restaurant
Luxurious country house
Banya (bath house)
Night club
Hotel
Overseas location
The most popular variant is some local restaurant with a capacity of 20-30 people at least, suitable for private parties.
Wedding, day 1
The tremendous day starts early in the morning when the future wife goes to a beauty salon. A make up artist and a hairdresser may also come to her home. In short, they make the girl look stunning.
Paying the ransom
This tradition is omnipresent in Russia. Please don't get frightened: It's just for fun and play. There is no certain amount that needs to be paid. It's just a great fun for both bridesmaids and groom's friends to enter a battle of wits. Of course, the groom will get his bride.
The fiancé is accompanied by his friends who help him to get his future wife.
The bridesmaids, on the opposite, make obstacles on the groom's way. It is the last chance for them to "sell" their friend at the highest price possible because after the wedding she will belong to the husband forever.
Bridesmaids design various tasks for the guy before he can get his sweetheart. Some couples end up being late for their official ceremony because the man and his friends were not capable enough to pass all the ridiculous quests and tests.
For example, the groom is given a towel and asked to tie it up as hard as possible to symbolize the strength of his love. When it is done, girls request him to untie it as quickly as possible. It shows how quickly he will manage problems the couple may face in the future.
One of the most loved tasks is saying compliments to the bride. While the guy is going upstairs, he should find one compliment per stair to get to his bride's floor. Imagine if she lives on the 16th floor and the lift is helpfully blocked by girlfriends.
The more the groom is humiliated, the merrier. If he cannot pass the task set by girls, the guys have to pay "ransom" to go to the next stage, another test. It may be real or fake money, cookies, chocolates etc. Whatever the bridesmaids will accept. They prefer real money but it's not always an option, and once the groom has exhausted his cash reserves, they become more agreeable to accept other forms of payment.
See how it is done: We have found 3 videos of how Russian brides are bought (for real).
Marriage registration
After the pair is reunited, the future spouses, their relatives and friends drive to the registry office, where civil marriage ceremonies take place. Bride and groom arrive together in a "wedding train" of cars but in separate vehicles.
Civil marriage registration is compulsory in Russia. The newlyweds may book an official ceremony in a specially decorated room or just sign the papers quickly.
Many couples prefer to do it during the week in more ordinary circumstances.
Voyage around the city
Banquet
This is the most enjoyable part of the day. It takes place in a restaurant, café, country club, or wherever possible. If people don't have money, they simply do it at home.
Tables for the reception are moved together. They form one giant table in shape of "П" or "T". The groom and bride head the table. The chief bridesmaid and the best man sit next to the newlyweds. Their parents take seats on both sides.
The guests eat, dance, take part in numerous competitions and quests organized by the host of the night. The point is to make a show out of a wedding. Professional singers and dancers entertain guests. Funny video films about the couple also gain popularity. In general, people eat, drink, dance, have fun, and wish well to the couple.
Most of the guests give money in envelopes as gifts. Some bring presents, usually household stuff.
If you visit such a party, you'll hear people screaming "Gorko!" (bitter), which means it's time for the couple to kiss.
A guest lifts up a glass with a drink, calling "Gorko!" Other guests start yelling it, too, until the young pair gets up from their sits and start kissing.
Once the newlyweds lock their lips, the guests start yelling "1, 2, 3", counting seconds.
The longer the newlyweds keep the lips locked, the merrier.
Then everyone should drink the glass to the bottom.
The meaning is that the couple sweetened the bitter drink with their kiss.
The party lasts until 11 pm on average and finishes with something vibrant and magnificent like setting off fireworks or launching balloons.
The 2nd day
Usually the celebration lasts 2 days. On the second day, the bride isn't wearing her white gown but another dress, pretty but less formal. The party starts in the late morning. Guests gather together again and continue having fun. There are more competitions and more money to be donated to the newlyweds.
For example, guests start throwing money on the floor and the fresh wife has to "clean up". Some people do throw real money (usually parents) but the majority of guests use plenty of small coins or fake banknotes to keep the party going.
Lulusvadba.ru describes multiple completions for the fresh husband and wife:
Put nappies on a doll, who's faster.
Dress the doll in baby clothing.
Make a "baby" out of husband's and wife's hands put through a curtain.
Have guests to "pick" the gender of the firstborn by putting money on either pink or blue plates.
Fake husband and wife may show up, to encourage guests to seek real ones who hide.
Cutlery and plates may be "sold" to guests on the second day. If you want to eat, pay.
The second day festivities habitually occur at home or sometimes outdoors, if the weather permits. In Russia this means during summer months only. The majority of weddings in the country occur during summer and early fall. Nuptials in May should be avoided, according to local superstitions. "May" sounds similar to "have problems", thus if a couple gets married during this month, they might have lots of issues.
Average costs
Prices vary by city. The highest prices are in Moscow, of course.
The cost of a simple wedding in a cafe (including expenses for rings, dress, shoes, makeup, suit, etc.) is about 200,000 rubles (USD $3100), according to The-village.ru.
A beautiful wedding with a handmade designer dress, lots of guests, and entertainment may cost around one million rubles ($15,500), especially in Moscow.
A new dress for the bride together with shoes and a veil — 25,000 rubles ($387) on an average. It's possible to rent the dress for around 4,000 rubles ($62) per night.
Make-up and hair stylist — 3,000 rubles ($46) minimum; 7,000 rubles ($108) in Moscow. A manicure costs about 1,000 rubles ($15).
The groom's costume (with a shirt and shoes) — 15,000 RUB ($232) on average.
Hiring a host – 15,000 RUB ($232). If you want to hire an agency, it will cost from 40,000 ($620) up to 150,000 RUB ($2325) for the events over 1.5 million ($23,250) budget.
Banquet (for 40 persons) costs from 80 000 RUB ($1240). The price can be up to 300,000 RUB ($4650) and higher for a night in some luxurious restaurant. Meals (without drinks) per person from 1500-2000 rubles ($23-31).
Wedding decorations — 2,500 rubles ($39) for a buttonhole and bride's bouquet. The decoration of the hall starts from 50,000 rubles ($775) together with the work of specialists. Again, the price may reach 300,000 rubles ($4650) if you want to see the room full of flowers, balloons, and exclusive decorations.
Photographer — from 1500 rubles ($23) per hour.
Limousine rental — from 1500 rubles ($23) per hour, Woman.ru reports.
2 wedding rings — from 10000 RUB ($155).
Marriage registration fee — 350 RUB ($5).
Fireworks — 5000 RUB ($77).
Are weddings in Russia expensive or cheap?
As you can see, nuptials in Russia are way cheaper than you may be used to locally. Compare USD $3000 with $30-40 thousands average couples spend in the USA or Australia.
However, even these prices are too much for many young lovers, since Russian wages are also proportionally smaller. That is why many pairs prefer to marry in more ordinary circumstances. Some people invite only close friends to a café and keep it simple. Others go a honeymoon immediately after the official registration of the marriage, thus saving on a banquet.
Generally, couples celebrate this day in their own ways. Many people omit such parts as paying the ransom or touring around the city. The scenario described above is the most traditional one.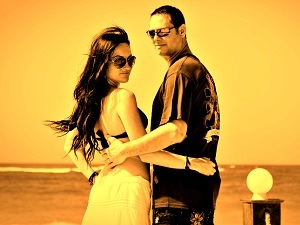 Read also:

Share this article