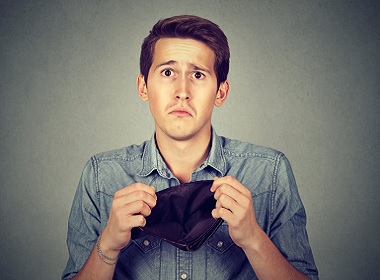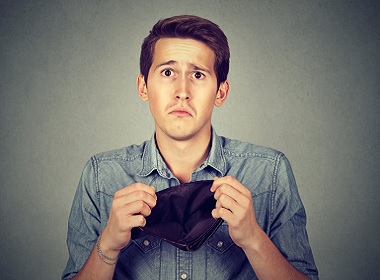 Global Wealth Report puts Ukraine at #123 in the world by the personal financial worth of its citizens per capita out of 140 countries in the rating. An average Ukrainian is only worth 1.5 thousand US dollars.
Poor and poorer
The Global Wealth Report is published annually by the bank Credit Suisse.
The wealth is calculated per person over 18.
Wealth, or net worth, is defined as financial as well as non-financial assets minus debts. Average numbers are higher than median, due to differences in calculation. For instance, top 10% of wealthy people in the country may own up to 80-90% of all assets, so the average number is high. But the majority of citizens may not be wealthy at all. The median number shows how much money the majority of population have.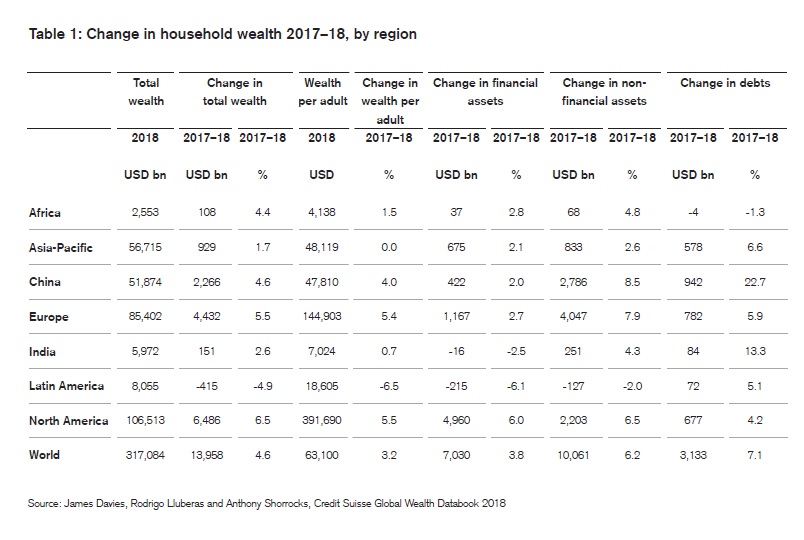 The average wealth of a person worldwide is USD 63,100.
This is how much money and assets would one person have, if everyone was given the same amount.
Financial worth of over 5 billion adults across the globe has been analysed in the research. During the 12 months from the issue of the last report, citizens of the world became richer by 14 trillion dollars (4.6%). The total value of assets that belong to all private individuals on the planet is $317 trillion.
Richest citizens, average wealth (thousands USD)
Switzerland: 530
Australia: 411
USA: 402
Belgium: $313
Norway: 291
New Zealand: 290
Canada: 288
Denmark: 286
Singapore: 283
France: 280
Richest citizens, median wealth (thousands USD)
Australia: 191
Switzerland: 183
Belgium: 163
Netherlands: 115
France: 107
Canada: 106
Japan: 103
New Zealand: 98
UK: 97
Singapore: 91
USA's median wealth: 62 thousand (#18).
Ukrainians own only 1.5 thousand dollars in assets and money
An average Ukrainian is only worth $1,563 (median).
Even Kenya ($2,306), Cameron ($2,282) and Nepal ($2,054) are ahead.
Russian citizens are worth $2,739.
However, there is a post-Soviet country that fared even worse than Ukraine.
Zambia ($1,197), Syria ($1,190), and Mali ($1,094) have lower financial worth per capita as well.
Shocking numbers for residents of Kongo ($331), Ethiopia ($167) and Malavi ($141).
Both financial and non-financial possessions (such as real estate) are considered in the rating.
Rich and richer
Worldwide, over 3.2 million grownups 18+ are worth less than $10,000: It's 64% of the planet's population over 18, but they only possess 1.9% of the assets and money globally. At the same time, there are 42 million of USD millionaires, which is less than 1% of grownups in the world, but they own 45% of the world's private wealth.
In a whole, Ukraine is on 80th position worldwide with total assets at 55 billion dollars. Estonia, Latvia, Azerbaijan, Georgia (country) and Kazakhstan are close to the same level.
In the first position are citizens of the USA with private wealth estimated at $98 trillion.
Millionaires per country
The number of millionaires in a country and how it changed over time is viewed as a display of its economic development and opportunities for growth.
In 2018 over 2.3 million people joined the ranks of millionaires in the world, from them 878 thousand in the USA, 259 thousand in France, 252 thousand in Germany, 200 thousand in Italy, and 186 thousand in China. Japan added 94 thousand millionaires.
Now it's 42.2 million people on the planet who are worth over USD 1mln. And it's not due to the variations in the exchange rates but a genuine growth of wealth, the report's authors point out.
There are 172,000 people in Russia whose worth is over $1 mln.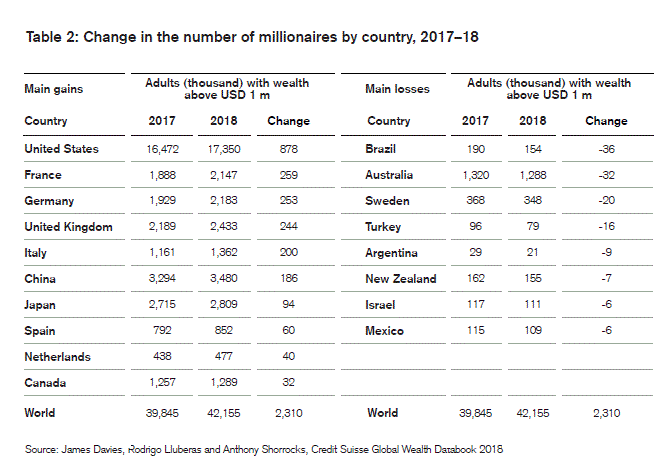 Mega-rich
There are 135 people in Ukraine whose personal worth exceeds USD 50 million, which is #53 worldwide among other countries.
In the USA, there are 79,540 people whose worth is over $50 million. China is #2 with 16,511 super-wealthy. Germany is #3 with 6,323 people who achieved such prosperity.
Read also: