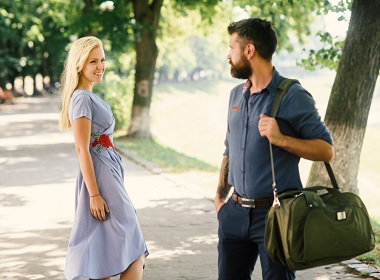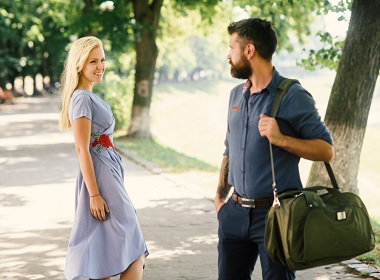 Sometimes I hear from guys who had a horrible experience with pay-per-letter dating sites and they wonder what would be the best way to meet eligible Russian singles. Some of them asked me whether I think it would be a good idea just go to Russia to meet single girls there.
Should I just go to Russia if I want to marry a single Russian woman?
Let's just leave Russia alone for a short while. Let's just talk about marrying a lady from your own country.
What do you think would be the best way to do it?
You need to meet a single person, who hopefully is also interested in settling down and starting a family, and then build a relationship, propose and set a wedding date.
Do you think you would need to move some special place within your country to do it? No, you just need to locate the right person and then you can decide where you are going to live, if you are not in the same city. If you are in the same city, you need to decide which area suits you both better.
The most important thing is to meet the right person. And it's unlikely to happen if you just go to a certain city for a tour. It makes sense to you, right? You don't have any advantages being a tourist. If anything, you have disadvantages. You are in the area just for a short time and females are wary whether you are just seeking a quick hook-up, of course, if they are looking for something serious. The ones who are looking for a quick hook-up, they will be OK with a tourist.
You see, it makes sense to you when you are thinking about your own country. But when you are thinking about Russia, suddenly you think that marriage-minded females (especially marriage-minded ladies who are eager to drop everything and move to another country) are running around like wild beasts in Russian cities.
In fact, if you were thinking so, you would be right, because there are no wild beasts in Russian cities. And there are no giant hordes of Russian females wanting to marry foreigners either.
Even moving to a different state or city within the same country is a huge step for the majority of people. How large is a change for someone to move to a country where people speak a different language, what do you think?
I know most people living in the first world countries believe that foreigners from less developed states dream to immigrate there. But it's not true. If you travelled a lot, you would know that people in general love their countries and wouldn't not want to move abroad. Unless, of course, there is a war in their country and their lives are at risk. In this case there could be millions of refugees, as we see in many areas of the Middle East or Africa.
But Russia is not one of these areas.
So, if you think that a tour to Russia would make it easy for you to meet marriage-minded Russian singles, it certainly won't. To do that, you actually need not to just visit but to move there to live. Then you will have the same advantages as Russian guys, who have the demographics and the cultural paradigms on their side.
So, what's the best way to meet marriage-minded Russian singles?
Basically, all single Russian females are marriage-minded. Marriage is the meaning of life for them. They have been brought up that the meaning of life for a female is to get married, have kids and raise a family. They absolutely believe it's true. It's true for them.

But the vast majority of Russian singles, as I said, don't want to move to another country. They have very close and tight family ties and wouldn't want to leave their families.

It is only a very low percentage of single females, around 1% or less, who would consider a relationship with a foreign man. Even though they have very little chance to meet someone in their own homeland, due to demographics, they still don't wish to consider dating someone who lives in another country.

One reason for that is propaganda. If you talk to regular Russian people about international marriages, they will tell you straight away: "It's a bad idea! The mentality is too different."

They probably won't tell you as a foreigner (because they would be afraid to offend you), but they talk to each other about it, that foreign husbands only seek Russian wives to exploit and mistreat them. Such is the image painted by the Russian media in the attempt to stop local girls from marrying foreigners and moving abroad. Yes, of course, the propaganda machine is portraying things in a bad light on purpose, but people believe what they see on TV.

Mothers of my Russian friends married to Australians called them in the middle of the night to ask if they were really OK and not just pretending, after watching such a TV program. The mothers were so terrified, they thought the women lied that they lived well, because they were afraid of the husband! Seriously. This is what they show on Russian TV.

So, it's usually only ladies who know someone personally who married a foreigner and moved abroad that decide to consider such an option. The majority of population in Russia is extremely suspicious about marriages of foreigners to Russian singles; the general notion is that females won't be safe in such a marriage.

This is another factor to bear in mind when thinking of a tour to Russia as a way to meet a potential partner. You are really better off first connecting with someone who you think is suitable and then meeting her in Russia. If this doesn't work, then you are able to realize your initial plan of just touring Russia with the view to meet a partner for a relationship.

But you have at least 50/50 chance that it will work. Besides, after talking to a lady for a few weeks, you will have a first-hand experience of dating a Russian woman and answers to questions that you wanted to know about life in Russia, culture, and so on — whatever you want to have answers to. Isn't this knowledge worth something?

So, you are not losing anything if you first start talking to Russian singles online. But you may win and make your life way easier if you wish to meet someone marriage-minded, because it doesn't cost you anything to chat online with women from Elenasmodels.

You can talk for as long as you wish and about any subjects, and it doesn't cost you any extra.

And it can definitely save you a lot of money and wasted effort as compared to simply going to Russia and trying to meet singles who are open to emigrating and will also be able to trust a tourist that he is not just after a quick hook-up.

Just think about it logically.

Share this article