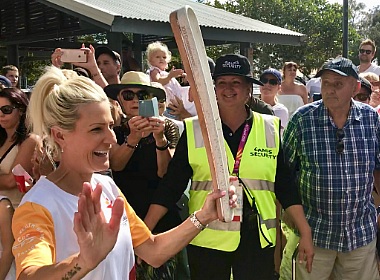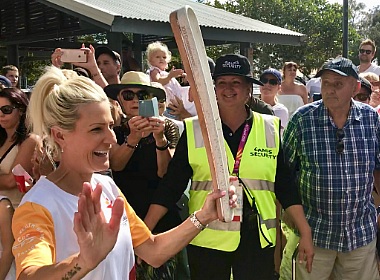 Our readers enjoy some of my personal experiences and views. Let me tell you about today's big news in my home city, beautiful Gold Coast on the eastern coast of Australia in the state of Queensland. This morning my husband and I went to watch Queen's Baton Relay for the Commonwealth Games 2018 that open on 4 April, which are held in our city this year. What a fun-filled event with lots of smiles and cheers!
Queen's Baton Relay
The baton relay is similar to the Olympic torch relay: It travels around the country and its arrival symbolizes the start of the Games.
This year Gold Coast City in Queensland, Australia, hosts 2018 Commonwealth Games.
Since the Queen of England is the official head of state in Australia and the festival unites athletes from 71 nations that are part of the alliance, the relay is named after the monarch.
The athletes compete in 26 sports.
The city expects some 670,000 tourists to arrive for the Games.
Today the baton was scheduled to arrive in my home neighbourhood Paradise Point in the morning and of course I could not miss this event. It is Easter Monday, so people are having a day off. This is why so many locals gathered in the Paradise Point park to watch the relay.
From young to old, people enjoyed the beautiful sunny day and shared in the cheerful atmosphere. The kids were especially excited, as the baton-holders were passing by, giving them a chance to literally touch the history.
I love living in Paradise Point, because it's really a friendly, relaxed community. The beach walks, the sea, the boats… What else can you wish for? 🙂
Today's event was also fun and happy, just like "life in Paradise" should be.
The current record holder for Australia in half-marathon, veteran runner Pat Carroll, carried the baton to the stage, where Nikki Hudson, a former Olympic hockey player, took it from his hands.
Then the Queen's Baton went on further; it still has to travel through quite a few areas to reach the official Opening Ceremony on 4 April.
The Queen's Baton Relay traveled 230,000 km (143,000 miles) — the longest relay in history.
It visited 70 nations.
The relay took 388 days — over a year!
I am looking forward to watching some of the Games live at the stadiums, as well as following the competitions as they unfold via TV. Today was a great day and an opportunity to dive into the spirit of the largest Australian sporting festival of the year.
It is a significant event for the Gold Coast, which never hosted such a massive sporting festival before.

The Opening Ceremony is scheduled for 4 April and the Games close on 15 April.

I feel so lucky to live in a such a beautiful place. It is really a paradise on Earth!

Prince Charles and Camilla will be announcing the beginning of the sporting festival at the opening ceremony. Actress Margot Robbie ("Suicide Squad", "I, Tonya), who grew up and went to school on the Gold Coast, is rumored to make an appearance as one of Queen's Baton bearers.

Share this article