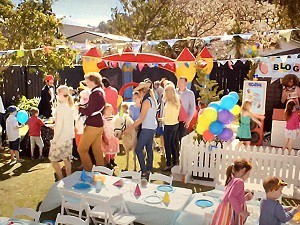 Great news! Changes to user blogs on Elena's Models are now active, and you can blog more. In the Ukrainian dating industry where major players charge for every mail or chat, we are striving to give our users more tools to interact at no extra cost.
1 blog post can include up to 300 characters of text and 1 photo. Now you can post several blogs day, if you so desire. The more girls you have in your Contacts, the more ladies will see your blogs!
Your blog posts and photos are instantly available to all women in your Contacts. There is no hold in moderation — ladies will see your posts immediately in their blog feed. It's a wonderful tool to make your interactions more personal and real. Tell women about your daily life and events, show them where you go and what you do during the day. They are very interested! And they can watch your blog feed without the need to respond.
(Learn more how to start blogging on Elena's Models.)
Spring is in the air, and many members are starting to plan their holidays. Why not meet someone amazing while you are traveling? Upgrade your membership to the plan that allows you unlimited blogging (and meet as many ladies as you wish) — and join the party!
Some interesting user blogs this week
Steve:
Planning a holiday in May, where to go, for sun sea and sand, been to Kong Kong, Thailand, Cyprus, Turkey, Italy, any suggestions would be welcome. спасибо

Jim:
I single person hopes the long hours of night go quickly. A couple in love hope the short hours of night last forever. It is time to find the other half of me who can make the night seem too short.

Alton:
Hmmm I think I would like to visit a new country in the near future. Where to go though? Well in any case I hope everyone here finds the man they're looking for. Until then I'd love to chat with you all!

Stephen:
This is possibly one on the most daunting things when first meeting someone from another country – both for women and men. I'd suggest you find somewhere neutral to meet, maybe a country 1/2 way between the two of you and make it a holiday meeting, that way you'll both feel relaxed.

Jason:
You go along your whole life and they seem as though they mean something and they always end up not meaning anything. She should make things easier so there was last night and this afternoon. She knows what time is all about. Yes, she gets the value of time.

Carlos:
Honesty —-> Be the wonderful person, who you are. Appreciate yourself. Commit to being a better you!

Rod:
We older American Men call ourselves "Old Dogs." Many of us were young men during Vietnam and have seen a lifetime of world and technological change.  We are mature, do not have bad habits, are financially secure, responsible, and know how to treat a woman.

Maria:
Hmmm, no one ever replies on this website, not even sure if all the men exist for real :). Ok, let's wait and see… Super hot weather in Vietnam today +40C, can't work in this heat, surfing the net instead ). Nice day, everyone!

Olena:
A few motivating movies:
Yes Man
A Walk to Remember
What Dreams May Come
Knockin' On Heaven's Door

Elena:
The scattered around in that pretty much flop of a week were some of the best kind of moments. The kind that you just want to pause and remember for a long time.

Ekaterina:
Trust is CRUCIAL in the relationship. A man should understand it's equally important for me to build trust in him, as well as for him to trust me. I am a tender, petite, weak woman and he is a big strong man, who is stronger physically and probably mentally. So he should understand my fears too.

Natalia:
We have no right to consume happiness without producing it.

Olena:
Few people expect Friday. * There are people Fridays: They are tired, but they do not give up, and enjoy life with hope and optimistic about the future. * There are people, Mondays: these people are always in a bad mood and they do not spoil it away to others.

Larisa:

I guess the main thing in life is family. Candle flame and secluded corner. That morning to hear: "I love you" A night to dissolve in a languid passion.

Maria:
Grrrrrr, got a really bad flu and still have to go to work! Wish there was a loving partner by my side at this time…

Read also:

>> All articles (in English)

Share this article