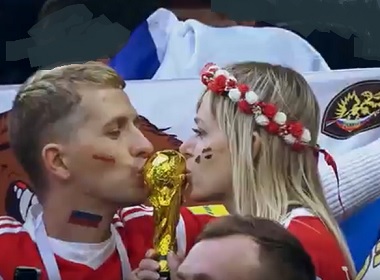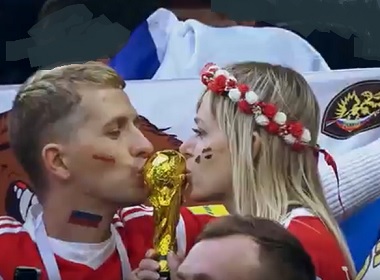 Russian supporters might have been talking highly about the national soccer team chances of winning 2018 World Cup, but no one really believed they would even be able to get into 1/8 finals a month ago.
Now that Russia knocked off one of the tournament favourites, Spain, and the defending champion, Germany, is also out, the results of the World Cup look more unpredictable than ever.
In Ukraine the game became the most watched show of the week, with over 4.4. million people turning their TV sets to see 1/8 finals with Spain and Russia, Lenta.ru reported.
Russian supporters cannot believe their team is in 1/4 finals
Russia's win against Spain started chaos in Kaliningrad, where the game took place on Sunday 1 July. The local supporters could hardly contain the excitement.
"It is the utmost achievement and we should not stop there," supporters proclaimed.
Live broadcasts in fan zones in Moscow, Samara and other cities also brought a whole bunch of exciting YouTube videos showing how locals celebrated their team's unexpected victory over a strong contender.
Video: What happened in Kalinigrad after the Russian team knocked off Spain.
Betting odds and predictions: Who will win 2018 World Soccer Cup?
Russia is playing against Croatia in quarter finals on the weekend. Betting odds favour Croatia vs. Russia. The game is scheduled for 21:00 Moscow time on Saturday 7 July 2018 in the city of Sochi, the host city of 2014 Winter Olympics.
The overall favourite to win the tournament is Brazil, with France, Belgium, England and Croatia all being considered as potential contenders for the finals.
Does Russia stand a chance to win the overall championship? Punters don't seem to favour the hosting country, however, stranger things happened. Uruguay, which beat Russia in the group, is given higher chances by punters.
So, should we expect further miracles from the Russian team? Supporters may be hyped up, but luck may have been running out for the host country's players. Right now odds favour Croatia at 2.15 to Russia's 3.65, but this will change as the 1/4 game on Sunday 8 July is approaching.
Even if the Russian team manages to knock off another favourite, passing semi-finals may be impossible, with stronger competitors on the board.
In fact, if I were to bet, I'd put my money on Croatia in Sunday's quarter finals.
Russians are keen gamblers with some punters known to bet as much as a quarter of a million dollars on results of a single game. They are also highly patriotic, which could be pushing the odds of their homeland much higher than where they should be. Betting against Russia may bring higher yields, on the wave of patriotic enthusiasm. But even playing on home grounds may not be enough to tip the scales in their favour.
Registrations are up at Elenasmodels
We had noticed a jump at new registrations at Elena's Models. Newly registered male members tell in their profiles about their great experiences at Russia's World Cup and how warm and welcoming locals were.
Women's registrations are also up, with the topic of Russian women dating foreigners continually attracting lots of attention in press.
The whole discussion about local women going out with foreigners who arrived to support their teams started in June and sparked a lot of controversy. It seems that Russian men are deeply unhappy about the competition they face from foreign visitors.
Guys in Russia are used that there is little they have to do to attract a woman, and now that there are some good-looking foreign men visiting and women are giving them attention, a big campaign against international relations had been started in press and social media.
There are more men than women in Russian cities, starting from the age group 25+. Competition for available males make women perfect their looks, while little asked from the guys, who are used to the notion they only need to "look slightly more attractive than an ape".
See what kind of women you can meet at Elenasmodels, lots of them are online now!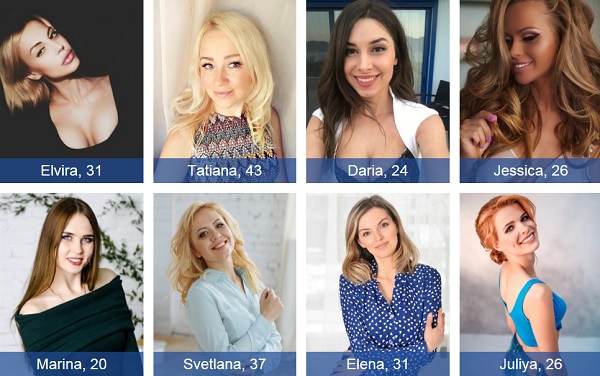 You are getting 20 free Expressions of Interest to contact women on approval of your profile on Elena's Models. No credit card required to join and you can register via your Facebook or Google+ profile.

Share this article