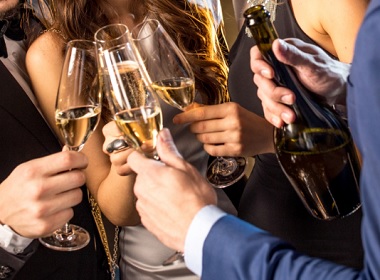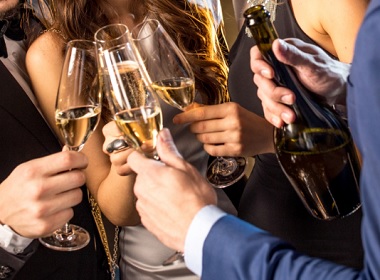 The imaginary line separating calendar years holds some magic for many people. Eastern European women believe that wishes made while the clock rings midnight on the New Year's night will come true.
The custom of writing down your dreams and wishes on a piece of paper and then burning it, dropping the ashes into a glass of champagne and drinking it under the ringing of the clock bells at midnight is popular not only in Russia and Ukraine but also among people who were born in the former USSR republics and now live abroad.
New Year traditions and customs in Russia
These customs women from the countries of the former Soviet Union mention as forming a part of the New Year rituals.
1. Decorated fir tree
In western countries it's called Christmas tree but in Russia it's the New Year Tree.
Christmas was prohibited by communists after the revolution of 2017, so locals moved all usual festivities to the New Year's Eve. It stayed this way until 1991 when the Soviet Union collapsed and religion again became part of everyday life. After that Orthodox Christmas (which locals celebrate on 7 January) started to become an important date, but it's still not as significant in the social calendar as the midnight from 31 December to 1 January.
2. Presents under the tree
Same reasoning like above. Russians and Ukrainians give each other presents on the New Year's Eve.
If there are kids in the family, the presents could be brought by Russian Ded Moroz (Father Frost), who is a local analogue of Santa. He could be also accompanied by a Snow Girl (Snegurochka), who is his granddaughter. Usually it's the father in the family who dresses up and brings gifts for kids. But there are also plenty of services where you can hire entertainers for a fee to come and deliver gifts.
3. Large company of friends
Western Christmas is considered a family celebration, while Russians put more emphasis on spending the New Year's Eve with friends, although family members can be there as well. Ladies dress in their best new outfits for the night, which should be brand new.
4. Salad "Olivier"
This traditional dish is part of every festive table. It is made of ham or meat, boiled potatoes, carrots and eggs with a tin of green peas and pickled cucumbers with mayonnaise. Foreigners usually simply call it "Potato salad".
Other food that you may see on the festive table in Russia:
Mandarins. This fruit is also a symbol of the holiday season.
Salad "Herring under the fur". It's made of pickled herring pieces covered with layers of boiled potatoes, egg, carrots and beetroot with mayonnaise.
5. Staying up all night
Westerners often go to bed before midnight on the night of the New Year. For Russians it's impossible. They take a nap during the day to be able to eat and cheer all night long. Kids may stay only until midnight but grownups will play until they drop.
6. Watching "The Irony of Fate" movie
The classic 1976 movie depicts a love story where friends went to a sauna, got drunk, and by mistake shipped a wrong person to another city on the last flight before the New Year. The guy woke up just in time to give the address to a taxi driver in another city, which by the "Irony of Fate" had exactly same typical multi-storey building on a street with the same name. The guy met a single woman at the address and fell in love.
Watching "The Irony of Fate, or Enjoy Your Bath!" on the evening of the New Year (among preparations for the festivities later) became a tradition in Russia. The sequel depicting a love story of kids of the heroes of the initial film was released in 2007 and now also became a part of the New Year traditions.
7. Listening to President's speech
The President of Russia always gives a short speech, which is pre-recorded and broadcast just minutes before midnight, offering his greetings and recollections of the past year. At this time people tune in to TV waiting for the clock to announce arrival of the long awaited new year.
Video: 2017 speech by President Putin.
8. Knocking glasses of champagne as the clock on Spasskaya Tower of Kremlin in Moscow rings 12
That's the few seconds during which a bottle of champagne should be opened and poured into glasses, while people are burning their little pieces of paper with pre-written wishes for the New Year and putting ashes into the glasses. And then you have to clink glasses with everyone. This needs to be done very quickly, otherwise the magic is not going to happen. You are supposed to start drinking champagne as soon as the last twelfth hit of the bells completed and the Russian anthem starts playing.
There has to be at least one bottle of champagne (it should be enough for everyone to have a toast at midnight).
9. Watching "The Little Blue Light" TV show
The traditional variety show that starts immediately after the midnight features most prominent Russian pop-singers and stars. It had been on air since 1962.
10. Going to an outdoor New Year Square
Most groups of friends will also go out to the local square featuring slides, mazes and sculptures made of ice. And of course, a giant New Year Tree! Nearly no one is there at midnight but just a few minutes after 12 a.m. people start arriving to play and be merry.
11. How you spend the New Year's Night is how you will live the whole year
Russians believe that if you are happy and merry during this magic night, the whole year will be good for you. This is why it's important to have plenty of food on the table and go hard on entertainment activities. Usually there is so much food left that it's being eaten for the next few days. The 1 January hangover is also legendary. It's not unusual for people to sleep all day and wake up late at night or even on the morning of 2 January. But it's not a problem because it's already post-celebrations.
12. Celebrating The Old New Year
On the night from 12 January to 13 January Russians celebrate the holiday of the Old New Year. It's not as merry as the real holiday, but it's still observed by most locals.

The reason for this holiday is that Russia was 13 days behind the whole world until 1918, because the country was using Julian calendar, while the rest of the world had already switched to Gregorian calendar. That's the reason why Russian (Orthodox) Christmas is on 7 January.

Only after 13 January the decorated fir trees are removed and the holiday season is considered complete.

Most people keep the fir trees at home even longer, until after 19 January  when Russians celebrate the day of baptizing of Christ (Epiphany). Usually they do it by jumping into icy water of the local lake or river.

Brave Russians swim even in -21°C (-5.8°Fahrenheit) in Siberia.

Share this article