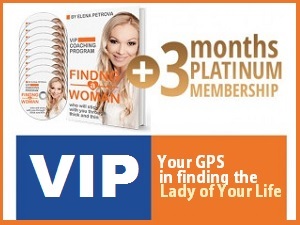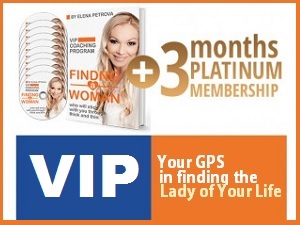 I am extremely excited to announce the arrival of our brand-new VIP Coaching package for men seeking Russian and Ukrainian women for dating, love, and long term relationships. It's been in works for months, and now we have this generous new kit that can firmly put you on the road to success in finding the Love of Your Life.
If you ever had questions about dating or relationships with women from Eastern Europe, what is different about them as compared to females from your country, and what would be the best approach in building a trusting and caring connection with a lady from Ukraine, Russia, or Belarus, this thoughtfully put together package will flick the light switch in the room of your concerns.
Dating Slavic Women Made Simple
Around the world, thousands of men are conversing with ladies from Eastern Europe daily via email, chat, or Skype, sending SMS messages and sharing photos. This great amount of communication may or may not result in something tangible, depending on how you manage it.
To understand how it works, imagine you intend to build a house. What would you start with? Of course, a plan!
Do you have a plan how are you going to build the house of your future relationship?
Do you understand requirements to make it happen?
Do you realize potential problems and hazards, and how to avoid them — short term and long term?
Would it help to have exclusive insights of a professional with 15-year experience, who could explain these things to you in plain language?
It certainly would.
This is what this product does: Makes it clear and simple how to succeed.
Peculiarities of Dating Russian and Ukrainian Women
As with building a home at certain locations, on certain soils or in particular wind conditions, there are definite rules, as to how this should be done. Not complying with these canons could put your building in danger.
This is where knowledge of a certified professional could be of great assistance. In the construction industry, you hire engineers and architects who help you create a structure that will withstand the elements. In dating, you may want to gather insights from a relationship professional.
I have been working in the Russian-Ukrainian dating industry since 1999, and before that I went through the process of meeting a foreign partner myself, moved to a new country, and started a family with the man from a different culture who spoke another language. After that, I established my own business online, which has been connecting thousands of people worldwide for 15 years.
Some of them were successful, while others failed. Which one do you want to be?
How VIP Coaching Package Can Help You Make Your Dreams Come True
We all have certain dreams and aspirations but at the same time we are unsure if we can get what we want. This is why we often settle for the second or even third best, or put our hopes too high, making it impossible to succeed.
We also don't know how our actions and words will be taken. Imagine yourself getting a new computer where buttons don't have labels. Which button to press? What is going to happen? Many men try to figure out how to work their way with Russian and Ukrainian ladies without having instructions. Are you sure you will not accidentally hit "Erase all" button right in the middle of your work?
Navigating the waters of international dating without a map could be risky. You don't want your love boat to hit the rocks. The VIP Coaching package will become your map. I will be your GPS leading you through the whole process, step by step, from choosing the right woman for you to your personal meeting and your relationship will last.
What's inside the VIP Coaching Package?
For Elena's Models users, we designed a special deal for the launch, allowing you not only get this complete manual full of "Aha!" moments, accompanied by 2 workbooks and 8-hour audio track — but you will also get a complimentary 3-month Platinum Membership ($259 in value), which allows you to contact ANY lady on the site, and have UNLIMITED and unrestricted communication with her, with no extra charges. You also will be able to instantly access direct contact details of all ladies (email, phone*) with just a click of a button.

In other words, you are getting unlimited access to all the women's profiles on the site — all thousands of them, plus thousands of new women who will join the site during the next 3 months. You will be able to phone or email any of these ladies directly and instantly, as soon as her profile is published on the site, and try all the helpful tips and techniques that you have learned.

Please note: Platinum membership is only available as a bonus for a few days — get it now, or it will be gone!

Imagine how much you could save knowing exactly what to do or say to reach your desired results quickly and effectively, while dating Slavic ladies online and in real life. No more wandering around in the dark — you will be able to understand all prerequisites and steps, and build the house of your relationship on strong foundations.

So, what are you waiting for?

Sign up for you VIP Coaching deal right now and start gaining on your competition — this offer is limited. There is no point in staying in the dark, when you can simply flick the light switch!

* Where available

Share this article