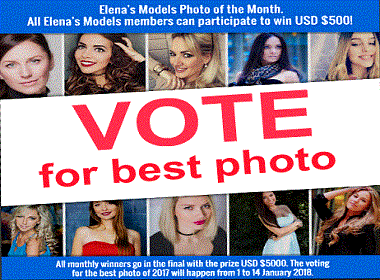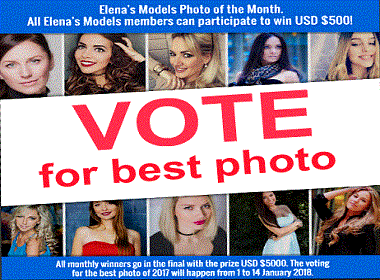 Our Facebook photo contest is now open for viewing — click on the link below to see all entrants. We only have a few gentlemen who were brave enough to put themselves in front of thousands of ladies of Elena' s Models, and over 100 beautiful women who posted their entries — 119 contestants in total.
You can vote for as many girls as you wish! You are allowed to give 1 vote to every entry, if you choose.
See the beautiful ladies who are members of Elena's Models — they all need your support to score! It is your support that will decide who is going to get the prize. (Or maybe you would like to support some of the gentlemen.)
(Make sure you are logged in to your Facebook account to view all pictures.)
Remember, ultimately the goal is to find the best picture of 2017 — every month we select 1 winner who becomes the finalist of the "Photo of the Year" competition.
Monthly prize: $500
Yearly prize: $5,000
How to vote
You can vote for any photo entry, including your own.
Login to your Facebook account, click on the link, the list of entries will be displayed. Pick the entry you like, click on the picture and then on the button to vote.
There are over 100 photos on 2 pages. Photos are displayed in a random order.
You can vote for 1 entry once a day (15-30 April). However, you can support as many contestants as you wish.
If you are a contestant, encourage your family and friends to support your entry. You are also welcome to ask the ladies from Elena's Models through communication and your personal blog on EM. (Post the same picture through the personal blog, so your contacts can easily find your entry.)
Remind your friends to vote daily.
If your friends don't have an account on Facebook, they can create it for free. Only Facebook users can participate in voting.
If you are unable to open the application with the contest
The contest application is part of the Facebook service and located on its servers. If Facebook is up, the contest works.
Make sure to login to your Facebook account first (or register). 
The application controls the voting process, including its own black lists of IP addresses. Usually an IP is blacklisted because of prior violations (spam etc.).
Some countries are blocked (such as Indonesia, Vietnam).
What do I do if the link to the competition doesn't open?
There are 100 photos on the page; give 10-20 seconds for the page to download.
Try to connect from a desktop computer.
Ask your friends to check if they can view the competition (they need to be logged in to Facebook).
Terms and Conditions of the competition
Please read the rules once again and follow them. Only the contestants who abide by the rules are eligible for the prize.
The winner of April's competition will receive USD $500 cash as the prize.
April's winner becomes the first finalist for 2017 "Photo of the Year" with the prize $5,000.
Share this article