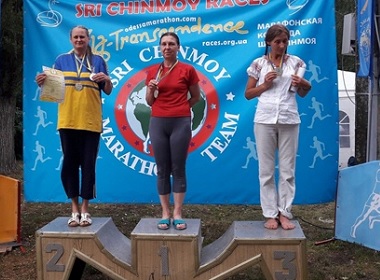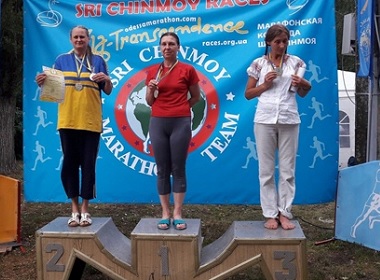 A 57-year-young Ukrainian woman managed to cover 212 km (131 miles) and win the 2-day running event in Vinnytsia. The distance equals 5 marathons.
57-year-old Ukrainian woman won 2-day running event
A 48-hour running race was held in Vinnytsia, Ukraine. Such races are the most extreme kinds of athletics testing everything in a person.
Over 60 track and field athletes aged 20-76 from 17 regions of Ukraine took part in the competition, as well as some competitors from other countries such as Belarus, Germany, Poland and Serbia, KP.ua reported.
Yuliya Staroselskaya from Kharkiv won this unusual race, having covered 212.167 km in two days and getting ahead of the second-place winner by more than 8 km (5 miles).
The 57-year-old winner works in Kharkiv National University and teaches at the Department of Health Sciences (Valeology) at the Faculty of Philosophy.  She is not new to this kind of marathons, although she didn't expect to win this time.
The race was not easy this year because of the weather. On the days of the race, participants faced heat waves and the burning sun. It is unbelievably hard to run in such conditions, the athlete says, that is why her working rhythm needed some adjustments, but she would not want to waste precious time.
"The weather played its part – men, too, showed worse results. The heat was exhausting. I tried to organize my performance so that I wouldn't run in the heat but rather walk, move, because if you don't walk at all, you lose time, so the scheme was "run-walk". When it is the evening and night, then it's time to start running", Yuliya explained.
As the winner told reporters, she could not prepare properly for the race because of work overload. There was not enough time to train, but nevertheless she decided to enter the race.
"I used to deliberately train for the race, counting time, distance, keeping track of the rivals, all in all, I competed, but at the end I was exhausted. It never brought me any pleasure. This time around, I wasn't properly ready but didn't want to miss the race. So, I said to myself, I would run as fast as I would be able to, that's it," the athlete recalls. "So, I didn't plan to compete, I just ran. I have no idea how I managed to cross the finishing line first!"
The Ukrainian lady did not have much rest after her victory. From Vinnytsia she went straight to the Carpathian Mountains, to conquer the slopes.
Read also: