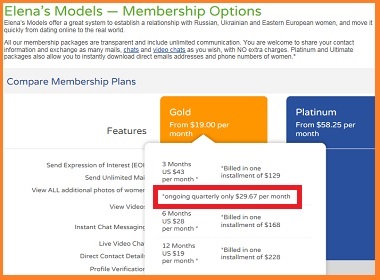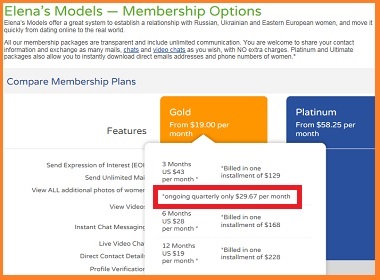 We offer 2 types of recurring memberships on Elena's Models:
Gold (3 months)
Platinum (3 months)
Why these 2 memberships are recurring
It can take longer than 3 months to find someone who you want to invest time in and travel to meet.
We automatically provide ongoing membership and significant savings (loyalty discount) with recurring plans, and there are considerably more members who wish to take advantage of these savings than the ones who don't.
Savings with recurring memberships
Recurring Gold rebills: $89 (save $40)
Recurring Platinum: $199 (save $60)
Cancelling recurring billing on Elena's Models
It's easy to cancel your recurring subscription on EM:
Nothing is hidden during your purchase process, with both recurring and non-recurring memberships displayed on the sales page — only 3-month Gold and Platinum memberships are recurring.
Cancelling is exceptionally easy in Settings. Simply click the red link "Cancel Recurring Subscription".
There are several info messages (warnings) before your renewal (re-bill) is due.
The info messages are displayed on the Home page of your account and cannot be removed. It's impossible to miss them if you are using the site. If you decide to hide your profile temporarily, or engage in communication off the site while your auto renewing membership is still active, remember to set a reminder in your Calendar in Outlook or on your mobile phone. It's no different to handling bill payments in your daily life.
Be mindful of cancelling your membership if you are intending to visit Ukraine or Russia: you may not be able to buy again while you are there due to fraud screening measures by payment gateway providers. If your meeting doesn't go as you have planned, it may be impossible to gather new contacts while you are there, unless you have an active membership. As the result, you can spend thousands on traveling, and find yourself unable to meet someone else in the same location, because you do not have a current subscription and cannot re-purchase.
Helpful info messages
1. Red bar (visible on login several days prior to the date of recurring billing)
"Your membership (Gold 3 Months) is due to auto renew on July 26, 2015. If you do not want to renew, please cancel it now. If you cancel or do not renew, you cannot contact members after expiry. Re-join price is $129."
2. Yellow bar (displayed in your account several days prior to the expiry date of your subscription)
"Your recurring subscription has been cancelled as requested. Your membership expires in only 6 days."
Fraudulent refunds
We have noticed that some members abuse the rebill process: they use new services added to their account immediately after the rebill, and then accuse us in taking money from their credit card without permission, and request a refund.
This type of accusations is unacceptable, as our intentions and actions speak for themselves. We provide an open and straightforward platform for our users to select the kind of membership plan that they prefer — recurring or once-off, and offer trouble-free cancellations. As a gesture of goodwill for our long-term members, we also offer substantial discounts on auto renewals (see "Savings" above).
It is simply impossible for us to take money from your account without your permission, since we have no access to your payment details. Only the payment gateway provider has this information, including the selected plan and the frequency of payments.
We work hard in accordance with our company's values and ethics, striving to be the world's best membership site in Eastern European dating, and continue providing direct and uncensored communication with no pay-per-letter. As opposed to the majority of other international dating sites working in PPL model, we welcome sharing of direct contact details between members (email, phone, Skype).
Our policies are designed to benefit all users and secure a platform for continuous operation, including subsidising of the website hosting, maintenance, software development, customer support, and screening processes.
As such, we have arrived to the point, where we are required to make a decision in the interests of all genuine members, that if a member abuses our processes, he will be refunded, and banned from ever buying a membership on Elena's Models again.
More information: Current membership plans and prices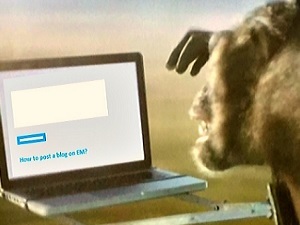 Read also:

Share this article