Ukraine's #1 Christmas tree is expected to be taller than the last year. The tree will be delivered to Kiev on December 3 and installed on Saint Sophia's Square.
The tallest Christmas tree for Kiev
Neither locals nor tourists will be disappointed with this year's Christmas tree.
The organizers of Christmas events promise to create a magical atmosphere in the center of Kiev.
Even the Christmas tree will be bigger and taller. However, it is not by intent. They just chose a beautiful fir which appeared to be really tall. Its height is 26 meters (85 ft), Kp.ua reports. The last year's tree was only 25 meters tall (82 ft).
The tree will be presented to public on Saint Nicholas Day when the mayor of the city lights it up and congratulates Ukraine's citizens with the upcoming Christmas and New Year and wishes everybody love and happiness.
During the holidays, thousands of people from all over Ukraine come to see the country's #1 festival grounds. No Ukranian can imagine holidays without a magnificent fir tree.
You can also take part in the events organized in the center of Kiev. This time of the year is always filled with the excited atmosphere of Christmas anticipation.
Girls from Russia and Ukraine love these days and during the whole December are busy with buying presents for their family members and friends. Isn't it exciting to enjoy this magic time with your One-and-Only? By the way, they say it's a good time for starting a relationship. Citizens of the USA and European Union don't need visas to travel to Ukraine.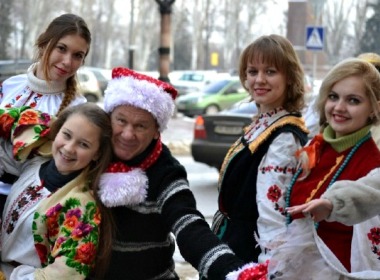 Read also:

Share this article