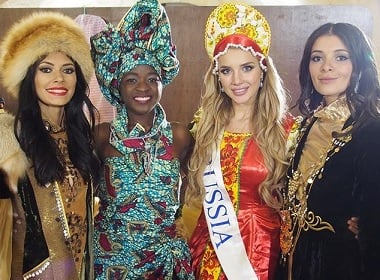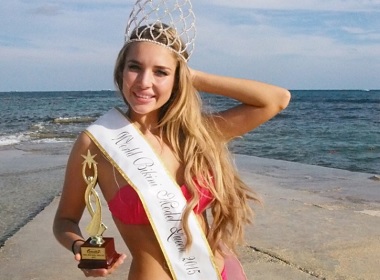 Ukrainian girl Anastasia Mykhailiuta won the title of the World Bikini Model 2015 in Malta on 25 October, where she competed with 39 young women from other countries of the planet.
However, her road to the title of the most beautiful bikini model in the world wasn't covered with rose petals, rather with rose thorns.
The 17-year-old Ukrainian-born model told KP.ua about the continuous bullying she encountered during the beauty pageant from other girls. She believes this happened because she was representing Russia.
"They Called Me Russia"
Anastasia said she told her name to other contestants several times, but they kept calling her "Russia".
"At breakfast no one would communicate with me, wouldn't sit at the same table with me. It came to that I openly wasn't referred to by my name. The girls called me "Russia", although I speak good English, and several times told them that my name was Anastasia. But this was to no avail, the participants were calling me only "Russia". I was feeling very offended and hurt because of this attitude and lack of understanding."
"Many girls started conversations about politics, and you can understand, all hatred was flying in my address.
"They were demonstratively starting conversations about Russia and our president, about international conflicts, trying to lead me into emotions. I tried not to pay attention to them, until the worst started."
Stolen Bikinis and Broken Glass in Shoes
"One day before the bikini competition all my swimsuits were stolen, and I had to get to the city urgently to buy new ones. Before the general rehearsal some broken glass was put in my shoes. I miraculously avoided deep cuts, but I still have a few scratches.
"Before the finals, the girls openly started to threaten me, (saying) that I would get nothing and wouldn't get a prize placement. I was locked in a toilet before going on the stage, a chewing gum was glued to the soles of my shoes, and just before the talent show, the flash drive with my music was stolen. It was good that my father was with me at the competition, he had a copy, and this is how I exited this situation.
"The girls started hating on me even more. I was having a knot inside me because of their words, but I didn't show anything, that I was afraid, I couldn't quit the competition that I spent so much time preparing for."
Last year at the World Bikini Model in China, the Russian flag that Marina Sashina was supposed to carry had been destroyed by some yellow paint poured over it, FashionSocium.com reported. It happened just before the round where girls were supposed to carry national flags on the stage. She managed to get a spare flag from the crowd of Russian tourists, who came to support her.
Is it time to start a conversation about bullying in international model contests? #bikinibullys
Winner of The World Bikini Model 2015
Anastasia's official speech didn't include all these nasty details. Imenno.ru published Mykhailiuta' statement about the competition:
"I am happy to receive the title of the World Bikini Model, it is my first victory in an international beauty competition. I was going to this victory for a long time, working on myself a lot, and I am happy that I could represent Russia decently. During the whole competition I was feeling the support of my family, friends, and acquaintances, and their energy and belief gave me even more strength and confidence, to compete for the first place. Getting this crown was hard for me, all girls were very beautiful and deserving of the title, but this is a competition, and it is won by the one who has not only the external beauty but also the internal charisma. I am very happy now, and I want to express my great gratitude to my family for their support, and to God."
Lenka Josefiova from Czech Republic and Zarina King from Uzbekistan are in the photo with Anastasia Mykhailiuta (Miss European Tourism 2015 and Miss European Bikini 2015 respectively).
The competition was held in Malta on 18-25 October 2015. It included a talent show, contests to demonstrate intellectual capacities, evening gowns and bikini modelling.
Photos: Facebook World Bikini Model 2015, Franco Caruana.
About Anastasia Mykhailiuta
Anastasia was born and grown up in Luhansk, Ukraine. She moved to Russia 3 years ago with her family, where she launched her modelling career.
In 2014 Mykhailiuta won the title of "Young Beauty of Russia". Her face graced covers of CosmoLady, L'Officiel, Collezione, and Shape. She has done work for Estee Lauder, MAC, Ocean Drive and Hamptons, as well as was featured in commercials for Sears and Revolve.
Anastasia considers herself a perfectionist. She is a professional horse rider and dancer. She is a student of the Moscow University of Economics and Law. She speaks fluent English, Russian, Ukrainian, and is learning Chinese.
Her website is Mykhaylyuta.com.
Other possible spellings of her name: Mikhajljuta, Mikhaylyuta. In Cyrillic the transcription her name is spelled: Анастасия Михайлюта.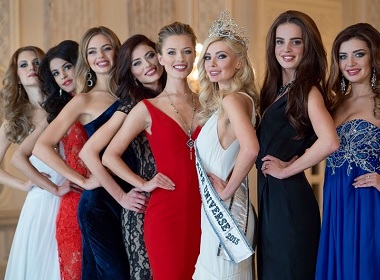 Read also: