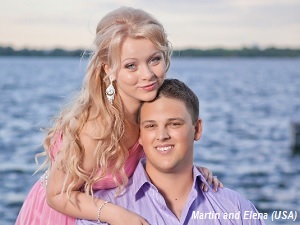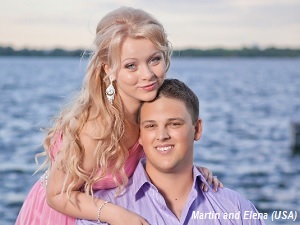 Our bloggers are happy to provide their best online dating tips and advice, which, as we have found, could be very useful to other members, and make for an entertaining reading. All Platinum and Gold members on Elenas Models have the facility to post a blog once a day, which is a message that goes to all their contacts.
Blog posts are instantly available online on our dating site. This feature is great for instantaneous communication. The more contacts you have in your list, the more people will be reading your blogs. It's the ideal tool to improve your dating prospects and add a more realistic and "up to date" edge to your online messaging. Messages can include up to 300 characters.
(Read this article for tips and advice how to use the online blog on Elenas Models)
Tips, advice, and thoughts from men
John:
Women want to feel safe and protected by their beloved, well men want to feel like a God to you. They want to feel like sexiest most handsome man in the world to you. Best looking, best lover, best friend; best everything in your life. You make a man feel this, and you will own his soul.
Kevin:
I have been talking to women on this site and I realized that I know very little about the various countries (Russia, Ukraine, etc) and their cultures. I also found that women have many questions about America also. If you have any questions about America feel free to ask and I will answer.
Tim:
Friday is the start of the weekend. There is always a sense of excitement with Fridays. But this feeling does not compare to the feeling we get when we fall in love with someone special. Let's hope that someone special is not far away
James:
Last week was busy, I was in Dubai with meetings in relation to a mining project. This week I am in Bahrain. Bahrain is a small tropical island paradise, that most Russians don't know. Since October 2014, Russian citizens can have a 2 week visit visa on arrival for $70 USD. I like Bahrain))
Jason:
Привет, как дэла? I have been learning more Russian, and have Russian characters on my keyboard. I am still very basic with my understanding of Russian, but I am learning more every day (-:
Patrick:
Happiness is reciprocating the love you receive.
Mike:
I know I should be grading student papers right now, but I find myself being lured back to this site. My heart beats faster when I see there is a message in my Inbox. I hope it is from that special someone who is across the waves. Are they thinking of me at the same moment?
Michael: 
Snow is falling, makes me want to turn the fire place on, make some hot chocolate, and cuddle up to someone beautiful and supportive.
Tips, advice, and thoughts from women 
Natali : Performing "impossible"
Almost anything is possible if you have got enough time and enough nerve.
Nataliya:
The trouble with having an open mind is that people usually insist on coming along and trying to put things in it.
Nina:
I know that the spades are the swords of a soldier
I know that the clubs are weapons of war
I know that diamonds mean money for this art
But that's not the shape of my heart
Irina:
I would like to meet with a vigorous man who prefer leisure and diversity of life that has a sense of humor, kind, sensitive, respectable and luxurious.
Nataliya:
A man consists of a liquid, some of them have it as the braking fluid.
Lidiya:
I have a dream and that's great, because my dream is a large magnet, the law of attraction, which attracts all the circumstances necessary for its execution and for our love and for our happiness.
Read also:
>> All articles (in English)