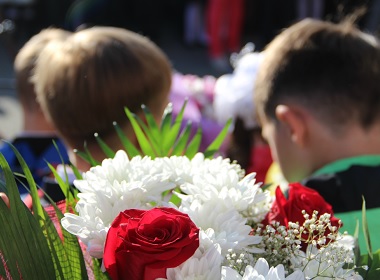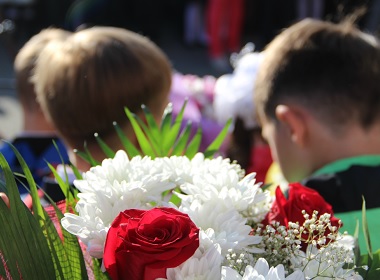 Ukrainian parents had to spend 7% more on supplies this year, as compared to 2016, to get their kids ready for school. Stationery, clothes and gym uniforms became more expensive, while drawing materials dropped in price. On average, it will cost parents 6,100 hryvnia (around US$240) to buy necessary school supplies that include stationery and outfits. In Ukraine, this is actually a month salary.
1 September is the universal "Back to School Day"
All Ukrainian school kids traditionally start the year on 1 September. The same tradition is practiced in Russia, where this day is called, The Day of Knowledge. Education is free in the government schools.
As a decades-old custom, schoolkids bring flowers for teachers on the first day of school 1 September and wear their "parade" uniforms. There is an assembly before the start of the lessons.
How much Ukrainians pay to give children education?
In addition to costs of stationery and uniforms listed below, there are also fees that parents have to pay during the year for materials and repairs, as government schools have little money for such things. Just as in Ukrainian hospitals patients have to buy medicines to get treated, parents are scared of going to school meetings, as they always have to fork out money for various needs.
But let's see how much it costs for the start of the year to prepare.
Costs: Stationery
An office kit of prime necessities will cost 17$ – the price increased by 14% as compared to the previous year. This "necessary" kit includes a fabric pencil case, 5 pens, 15 notebooks, a school diary, 10 book dust-covers, 4 pencils, a rubber and a ruler.
This stationery kit will probably suit high school students, who do not have Music and Drawing classes anymore. For the younger grades, parents will have to add $12 more for music papers and drawing materials (paints, a drawing book, pencils). So, a complete standard back-to-school set will cost up to $30 this year, Finance.ua reported.
Prices for clothing
If parents are willing to build a minimalistic "capsule wardrobe" for their child, so that he/she can combine some essential pieces of clothing with those that were purchased before, they may save large sums of money. A minimum set of casualwear and footwear for a girl this year will cost $72 in total, for a boy – $61.
Parents will have to spend $30 on sportswear for a kid (the price went up by 20% since the last year). They also have to buy a T-shirt ($12) and trainers ($30). So, it will cost $75 in total for a sports uniform for a kid, which is just under 50% of the whole budget.
A suit and a pair of dress pants will cost another $40. If you add some accessories (a tie and a belt for boys, a belt and hair bows for girls), then a school outfit for a girl will cost $12 more, and a boy's one – $17 more.
Altogether, it's pretty cheap by western standards to buy school necessities in Ukraine. In fact, it's the cheapest country in the world for expats to live.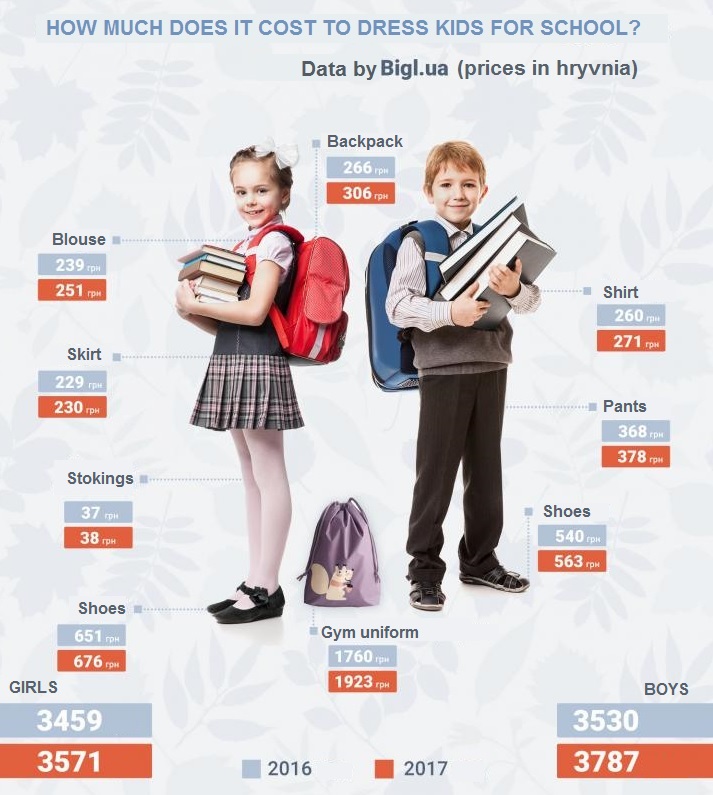 Read also: