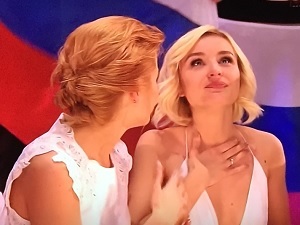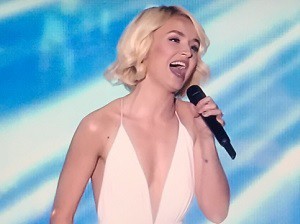 Polina Gagarina from Russia came second in the final round of Eurovision 2015, as announced in the early hours on Sunday May 24 in Vienna, Austria, with Swedish Måns Zelmerlöw taking the prized title after Saturday's finals. The popular European song contest celebrated its 60th anniversary this year, and was viewed by an estimated global audience of 200 million people.
The dramatic live voting bridge among all participating countries kept viewers in suspense until 36 countries had revealed their scores, after which Sweden was called an early winner, being so far ahead in the results that no other country could catch up. It is the sixth time that Swedes win the crown of Europe's best singers, with legendary ABBA being among past victors.
The 28-year old Russian performer has been tipped as one of favorites along with Sweden's Måns Zelmerlöw, the highest scorers of 1st and 2nd semi-finals, with Internet bookmakers giving the two nearly identical betting odds. Italy's group Il Volo, Belgium's Loïc Nottet, and Estonia's duo Elina Born and Stig Rästa were also not far behind in preliminary viewers' ratings.
2015 Eurovision competition also included for the first time a representative of Australia, seasoned performer Guy Sebastian, who received a streamlined entry to the grand final, and at the end managed to score a place in the top 5. Another popular personality was Poland's finalist Monika Kuszyńska, the first wheelchair-bound contestant, although she didn't get in the top 10.
Other countries that had a guaranteed placement in the final were Italy, France, Spain, Germany, UK, and the host country, Austria. In total, 27 finalists competed for the coveted title in the spectacularly decorated arena of Wiener Stadthalle in front of live audience of 16,000 people. Surprisingly, Germany and Austria scored zero points in the final jury results from 40 countries.
Måns Zelmerlöw's song Heroes captivated audiences around the world with its amazing interactive graphics, which had been in works for months. "We are the heroes of our time", sang the handsome Swede, connecting with millions of fans in Europe and Australia, which also had a chance to cast a vote in this year's competition.
The Russian singer performed her song, A Million Voices, an upbeat anthem with a powerful and touching message. Moscow-born songstress was dressed in a beautiful white silk gown with a flowing skirt, which apparently took hours for the costume personnel to iron before every performance, and required several people to carry and assemble on the podium. Gagarina's strong voice and stage presence had many industry professionals backing her for a win, and it seemed probable, as halfway through the voting process she was leading with Sweden being a close second.
One by one country's spokespeople gave 8, 10, or 12 points to the pretty blonde from Moscow, whose song was composed by a team of international writers including Swedish creative input and an Australian living in Europe. "Praying for peace and healing" and the desire to "start again" expressed in its English lyrics were finding resonance with many Europeans.
However, a smart computer-generated algorithm designed the order of voting countries to build up the maximum suspense, and after the initial triumphant run, Russia's performer started to miss on placements in the top 3, with Sweden quickly jumping to the top of the scoreboard. With Italian entry trailing close third, it wasn't clear until the last vote was cast in, which countries would take certain placements in the Top 5. Nevertheless, once 36 countries had provided their scorecards, Sweden became unreachable, to the delight of the cheering crowds at the event.
2014 Eurovision winner Conchita Wurst presented emotional Måns Zelmerlöw with the trophy, and then the former and new winner hugged each other, prompting cheeky comments from female presenters about two most beautiful men on stage. "Good morning Australia and good night Europe", said the presenters closing the broadcast.
While Sweden's win was not unexpected, some commentators immediately called the voting "political", implying that Russia's second placement might be caused by alliances beyond professional performances in the singing contest. Still, the substantial difference between the winner of the first place as compared to the second and third positions (62 and 73 points respectively) demonstrates reasonable consensus among the voters.
Ukraine's absence in this year's contest was notable, with the official version being the lack of finances to pay hefty entrance fees, as well as political issues.
Final Results of Eurovision Song Contest 2015
Top 10 (# of points scored):
Sweden (365)
Russia (303)
Italy (292)
Belgium (217)
Australia (196)
Latvia (186)
Estonia (106)
Norway (102)
Israel (97)
Serbia (53)
Russian Singer Polina Gagarina
Polina is not new to competitions. "A Million Voices" is her 19th entry to the Eurovision festival. Her previous accolades include the third placement in Baltic's New Wave singing contest in 2005, and winning a highly rated Russian reality TV show Star Factory in 2003.
Polina grew up in Greece, where her ballerina mother had a long-term performing contract. The smart girl completed her high school education at 15, after skipping a grade when she returned from Athens to Russia. During the last school year she was simultaneously studying at a professional school of jazz and pop music, and joined the reality TV competition that launched her stardom on referral of her music teacher at the age of 16.
Since the breakthrough in her singing career Gagarina released several popular tracks, took part in TV series and reality shows in Russia and Ukraine, and received numerous awards. Scoring the second place in a large international singing contest Eurovision 2015 is her highest achievement to date.
The singer songwriter, who is also dabbing in modeling and acting, is married for the second time to a well-known Russian photographer Dmitry Iskhakov, and has a 7-year-old son from her first marriage to a Russian actor, which dissolved after only 3 years. Gagarina has a degree in performing arts and theatre.
A former long-haired brunette, Gagarina is currently sporting a fashionable short do in a bright shade of blonde, a transformation that changed her image from a sweet young girl with the looks of Snow White to a stylish, modern European woman. Scolded in her own country by politicians and church officials for hugging Conchita Wurst in public, the young Muscovite was excited to score the coveted second placement.
Russia had high hopes for Polina, with TV channels devoting prime segments to interviews with the lovely star, and Eurovision finals broadcast live on the major national channel. However, the male spokesperson giving scores during the virtual bridge attracted some boos from the live audience, when attempted a joke by giving Russia 12 points (no country was allowed to vote for its own entry).
Will Russia be happy for Polina Gagarina and or take it as another snub by Europeans? For the beautiful young blonde, her prominent results promise a brighter future and broader recognition throughout the close-knit continent. She is now on top of the charts and the name on everybody's lips in Russia, seen as the ray of light and hope by many, and the voice of millions calling for peace and a new beginning.
Updated 25 May, 2015:
Polina Gagarina's transformation 2003-2015
From a cute brunette with the looks of Snow White in 2003 to the stylish lady wowing international crowds in 2015, the young mother is a true star. Polina's son was born when she was only 20 years old. After gaining nearly 30 kg (66 lbs.) during her pregnancy, she lost 40 kg (88 lbs.) and radically changed her image in the following years, and had to explain to acquaintances that it was still her, only with a different hair colour and thinner.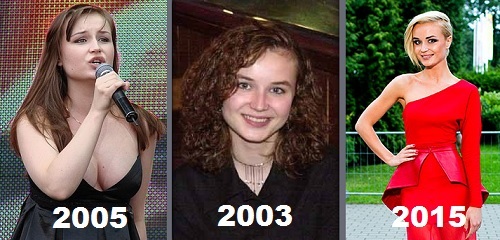 Video: Polina Gagarina, Russia (2nd place in Eurovision 2015 contest)

Video: Måns Zelmerlöw, Sweden (1st place in Eurovision 2015 contest)

Read also:

>> All blog articles

Share this article