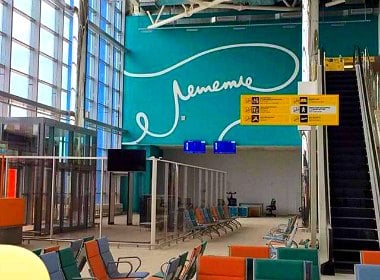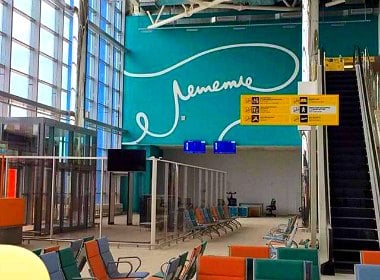 Russian social networks eagerly discuss a new billboard in Volgograd airport. The series of curves supposedly spelling "Fly" in Russian look suspiciously like a penis, users speculate.
Does it look like a phallus to you?
The airport unveiled a new terminal decorated by the controversial billboard on 10 August.
Despite the outcry in social networks, the airport's spokesperson Tatyana Fomicheva doesn't see any reason to remove the genital-like poster, Volgasib.ru reported.
According to Fomicheva, the calligraphy on the placard is part of the new corporate style of the Volgograd airport. The complete slogan states, "Fly. Dream. Towards new [things]."
The airport official said she was bewildered by people's negative reaction to the billboard.
"We were striving to create a good mood for our passengers, bring some ease," she stated.
The locals were divided on the matter of the shape in the ad. Russian women were mostly of the opinion that it was hard to see the white writing as a phallus. Males strongly agreed the outline was unmistakable.
Facebook user Vyacheslav Kuzmenko commented about women who stated they were unable to see anything inappropriate within the picture:
"I looked at the photo once again and there is only one version—maybe these girls simply don't know how this thing looks like…"
The future of Volgograd's penis poster
Volgograd is one of the cities hosting the World Soccer Championship in Russia in 2018. The Terminal C was purposefully built to accept guests of the tournament. Some locals are concerned what impression foreign visitors will have after seeing a penis in the arrival terminal.
Journalist Dmitry Bessonov was sarcastic about the sudden appearance of the debatable poster.
"It's fortunate that phallus is laid in the foundation of the future logistical transport centre of the region. It's no secret that male genitals most often symbolize force, might, power—that is, what the region was devoid of for a long time. And now all of these are again attained."
Bessonov went further to suggest incorporating phallus-like statue on the main square as well.
The new corporate style had been developed for the airport by the local design company "Hugo Chavez"  (Уго Чавес in Russian), a namesake of the notorious Venezuelan president, known for his penchant for slang, especially the word that means the male sexual organ. Maybe the penis-like handwriting isn't an unfortunate design oversight, after all?
Photo: Facebook Zhukov Sergey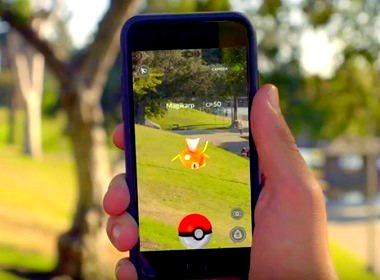 Read also: