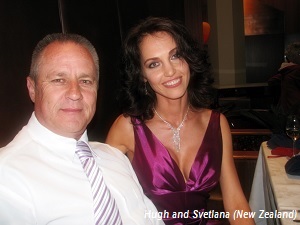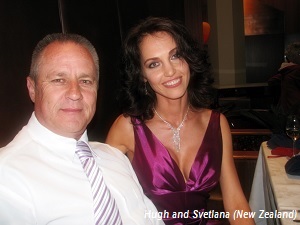 Reading stories and looking through the pictures of happy couples who met on Elena's Models, you probably wonder, "OK, people do meet here. But do these marriages last?"
It is amazing how many couples keep sending us updates on their relationships. Kids are born and going to school, lives change, people move countries and cities.
The beautiful couple whose photo you see on this page had met on elenasmodels.com and been married for 10 years.
Hugh and Svetlana have went hand in hand thought the world-wide recession and, living in Christchurch, New Zealand, several devastating earthquakes, one of which destroyed their home, plus also many other challenges that each of us faces in our daily lives. They brought up 4 children that they both already had when they met, and who now live in different countries but still are strongly connected to each other and their parents. It is great to know that this loving relationship started on our dating site.
It's been proven that people from different countries not only can meet online but also fall in love deeply and genuinely, and maintain this love for many years. It is not where you live but how well you connect. The chemistry. The will to make it work.
Remember the simple truth: to find the right partner, you should be the right partner. Marriages last when your relationship means more to you than "being right". Your marriage will last if you are genuine when seeking your soul mate and all the time after finding her. If you are genuine and sincere, you will attract a genuine and sincere person. Somehow when you open up and stop being afraid, the other person also feels free to open up.
It's worth to give yourself a chance.
Read also:
>> See all BLOG articles (in English)