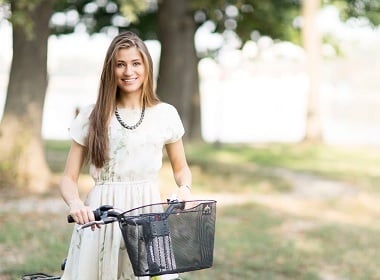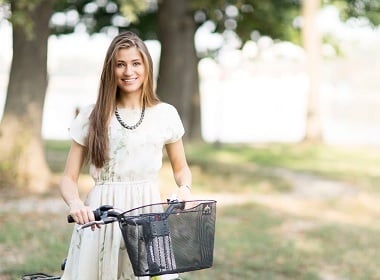 There are thousands of guys out there browsing Internet websites listing foreign women seeking marriage. There are tens of thousands of online ads of Ukrainian, Russian, Belarus women who'd love to meet a partner for a serious relationship. Are they real or fake?
Fraud vs. real
Most of men seeking Slavic women online have probably fallen victims of PPL pseudo-dating scams. These schemes are purposefully built in order to separate users through layers and build illusions, as opposed to genuine online dating.
However, Elena's Models works in a completely different way. We have no desire to offer anything that is not 100% real and true. That's been our motto for over 18 years. This is why we carefully and meticulously check every profile before approving it for publication on the site.
And while on PPL sites listings feature real people but relationships are often fake, on EM both profiles and relationships are authentic.
Elena's Models listings
All profiles on ElenasModels.com are reviewed by a real human before approval. Our dating professionals check every picture that it's not a copy from another person's Facebook or VK, or a celebrity. It's a standard procedure.
This is why it's surprising to receive comments on the blog like these from a guy who signed as "David P." (may not be his real name):
"Tatiana, 32 is already married to Richard. She is Larissa."
"Julia, 31 is Miss Universe Ukraine, 2015. Google image match 100%. Anna Vergelskaya. Not Julia. Photo fraud."
Yet, what David P. (or whatever his real name is) missed is the fact that the same side panel with women's profiles is displayed on the pages with previously published stories about Larysa and Richard's marriage and Anna Vergelskaya becoming Miss Ukraine 2015. Those are posts on EM blog. The same side panel changes automatically several times a week, promoting ads of new and popular EM members.
The two women David accused of being a "fraud", who are actual Elena's Models members, would be legitimately hurt by such accusations.
Then such guys go on forums and dish out dating advice, stating they are "experienced". In fact, they have no idea! They haven't been successful in meeting someone. Vice versa, they keep failing. Thus, some of these guys been to Ukraine, Russia, Belarus multiple times. Lo and behold, they returned home single.
Should you listen to them? Absolutely not! (Unless you wish to remain a bachelor.)
Pause before launching into an attack
Think of the real people that you may hurt with your poorly researched accusations.
No, blonde Tatiana is not brunette pregnant Larysa, who is married to Richard from the USA. It's a completely different woman.
The same about Julia. She might be flattered that you thought she was as beautiful as Miss Ukraine. But most likely, she would be shocked about someone accusing her in fraud. And definitely unhappy about you spreading such malicious rumours about her online.
If David checked additional photos of these ladies, which they listed in Galleries on EM, he would know immediately that he was wrong. But David seems to strive to find a fault, not a woman to marry and live happily ever after with.
Time and again, we see how men destroy their chances with beautiful women because of being overly suspicious.
Only scammers will be happy to jump through hoops; genuine women will feel offended and cut you off.
Even a suspicion that you blurt out will hurt her.
An accusation could put an end to this relationship for good.
Seriously, no one has to prove to you they are not scammers. People have little patience for suspicious types. Ignorance is not an excuse. It's just one more thing that pulls you down and stops you from being successful and happy.
Are you a dating expert?
I sincerely believe that most of you, guys, are not any more experienced in finding out a potential scammer than our team of dating experts. Our experts have in total over 100 years of experience, accumulated working in this industry.
Detecting and removing scam profiles from the giant amount of applications is what we do on a daily basis. Every genuine dating site does.
From Nigerian scammers trying to get hold of westerners through dating sites, to PPL writers rummaging for new potential victims, we have to check all listings through a detailed vetting procedure.
With all the checks, it takes our personnel approximately 45 minutes to approve 1 female profile.
Not only that, we have special custom-designed sophisticated software that picks on typical fraud patterns and red flags any profiles that exhibit behaviours deviating from how genuine people act on a dating site.
Then the red-flagged profiles are investigated in detail by our specifically trained investigators, who are doing such checks for many years.
ElenasModels.com team of dating experts
Not only our specialists know every trick in scammers' books, but they also have access to the underlying data, which you cannot see in the profile.
Each woman's profile on Elena's Models is connected to a real phone number. The person accepted a phone call from our personnel on this number, before the listing was approved.
In cases where a profile is red-flagged, we usually conduct a personal Skype video interview with the woman and ask her to show ID and other documents. The same procedure is followed if during the initial approval anything seemed out of place or raised questions.
It is our rigorous vetting system that allows us to say proudly that Elena's Models accumulated the best and most reliable database in the industry of Eastern European dating.
There is no large dating site in Eastern European dating that has hundreds of thousands of vetted listings in the database and doesn't charge per letter.
(You know what charge per letter means: A high chance of scam by paid writers.)
What to do if you have a question about a woman's profile?
Send your question to Help Desk. You need to be logged into your account on EM.
Make sure you include all the details, which confirm your concerns.
Such details include: Facts in chronological order, screenshots, copies of messages.
We have ZERO tolerance to scammers. In an unlikely event that a non-genuine profile managed to make it through the vigorous screening protocols, members inform us pretty quickly if something seems off.

Inform us immediately with any concerns; we know how to check it and what to do.

If there ever was a legitimate Russian dating site, then ElenasModels.com fits the definition perfectly.

And if you do not trust that we offer you a genuine dating service and contacts with authentic Russian, Ukrainian, Belarus women, who are ready to move countries, then go to a place that you have confidence in.

Life is too precious to waste time in suspicions and uncertainty. I am sure you'd rather spend it with someone you adore, who loves you back.

Share this article