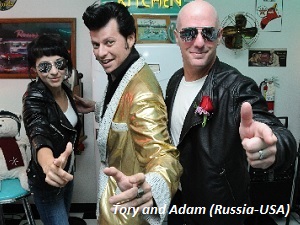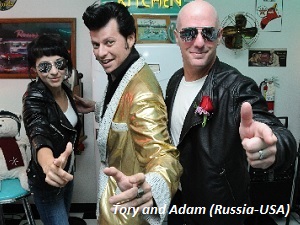 People meet in many ways, and finding love online became quite a regular occurrence, at least at Elena's Models. One of our couples sent us this week their wedding pictures — an Elvis ceremony in Las Vegas, which has secretly been my dream for many years… Oh, well, maybe one day I will have a chance to renew my vows in front of the King. 🙂
Victoria (Tory) and Adam met on ElenasModels.com and decided to make their ceremony fun and exciting with a wedding in Vegas. We wish them all the best in their life together! They sure look like their marriage is going to be full of love and laughter.
Next, we are also bringing you this week's selection of top members' blogs. We are trying to find unusual and interesting posts, which would be entertaining and fun. Keep them coming!
(Learn more about personal blogs on EM)
Top 5 blogs from men
Jason:
I believe a good woman is not one who looks perfect, but one who can act with confidence while not looking perfect.
Rob:
No matter how good or bad you think life is, wake up each day and be thankful for life. Someone somewhere else is fighting to survive.
Amzi:
Finally I think I found some genuine profiles to talk to. So far great communication. Guys do look for someone who believes in 2-way communication.
Clint:
When you feel that nobody loves you, nobody cares for you, everyone is ignoring you, and people are jealous of you. You should really ask yourself: Am I too sexy?
Nivhans:
Do women prefer equal rights & equal or prefer to be treated as a damsel or lady to be protected?
Top 5 blogs from women 
Nataliya:

Women admire handsome men, they love intelligent men, they fall in love with kind men, they fear courageous men, but they are willing to marry only strong men. I am not such a strong woman to be with a weak man.

Nataliya:

City – the concrete maze in which we lose ourselves, lose people and can lose reason. The most convenient way to discover the city is to try to find out how they work here, how they love here, and how they die here.

Svetlana:

Looking outside my window… I can say that Life is really Wonderful! And I want to share it with a man I will fall in love with!))

Ekaterina:

I decided to save my sexy swimsuit pictures for my special someone. I hope he will appreciate it! ;)) Now, I just need to meet my Special Someone. :)) No, I don't feel self-conscious, I just don't want to show my body (however fit it is) to ALL the men out there. Sorry guys! ;))

Anna:

Nature made a man that he cannot absorb the energy of love except from his woman, his wife, and this is critical. Only a woman can bestow upon the man of her love and give him the strength to find fulfilment.

Read also:

>> All articles (in English)

Share this article