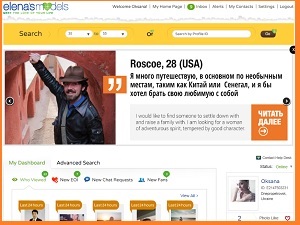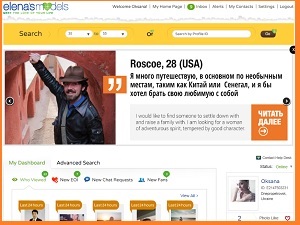 If you'd like to meet more women on Elenas Models or have more ladies writing to you, this article will explain to you how to get promoted on the site.
To get promoted on ElenasModels.com, you need to be a Platinum or Gold member, and have a good quality photo in your profile. This photo will be used as a "billboard" when women login to the site, in a similar fashion as when you login, you see photos of ladies with a link to their profiles.
Here are two reports from male members who have been promoted on Elenas Models.
Julian's feedback
After I have been promoted, the volume of interest has certainly increased — and I wasn't exactly unpopular before! I'm actually finding it a little difficult to keep up! My picture 'likes' have doubled, so that adds to my profile's general attractiveness. I'd say I'm getting over twice the responses that I had prior to the promotion.
I had a look at 'the competition' the other day and I can see I'm in the top 100 but I am a little competitive and I'm always looking to improve!

The quality of responses I'm getting seems to be across the board, in terms of who I'm looking for. I'm getting more responses from women I would approach and also from women I would not approach — which you'd sort of expect since the promotion is not targeted at a specific group. So to your question about "better responses from more suitable women", I'd have to say that's sort of half the case! It can only really be this way, logically, because the promotion isn't targeted at the women who are 'more suitable for me than before the promotion'… If you could even really measure that…
And unless you do something complicated like have banners that only appear to certain groups — which I think would be a nightmare to develop and implement, if even possible, you'll never get around people taking pot luck at someone outside their criteria. After all if you don't ask you don't get. And a banner to everyone will also of course make a profile more visible to this group of people too.
In terms of "better responses from more suitable women", women just suck here just like they do everywhere else. You could just cut and paste the same bland schoolgirl text "looking for a real man" (whatever the hell a 'real man' is — I certainly don't know and I'm pretty sure they don't either!); family oriented, ready for love and want a family. I'm pretty and charming and if you like me write back". And I've had only a small handful of initial interest emails remotely approaching the quality of the ones I send.
Elena wrote a blog recently about appealing to women's character rather than just say that they're pretty — that's nice and great advice but it's a little difficult when a picture and 3 sentences of generic schoolgirl text is all you have to go on! I guess the girls probably also have similar problems with the guys though.
I think that another little side effect of the promotion is to make the girls one is already talking to, a little keener — you know how women find men more attractive, who are more attractive to other women (that's actually been scientifically proven) — so when they see the banner they want to communicate more. It also works the other way with men, too — I couldn't wait for the previous banner to this one, to disappear!
What I'm finding a little uncomfortable at the moment is that, due to the volume of responses, I'm having to use the 'reject EOI' button a lot more. Prior to the promotion I used this button (I like to think!) a lot less, preferring instead to write a short note nicely explaining why I'm not interested. I've seen the text on the auto response and while it's to the point and polite, the text could sound a little harsh to some who are more sensitive. However doing this 'nicer' approach is a bit of a pain currently because you have to navigate around the site to write an email then go back to the EOI page and hit the button.
I've also had a few mails and chat requests from girls who I'd already rejected EOI — I'm still making up my mind what to do with these!
Mike's feedback
I am sorry for taking several days to reply. I am a school teacher and sometimes my schedule gets crazy.

I would have to say I definitely saw an increase in the number of EOIs I received from women on the site. I would say there was a slightly higher percentage of those who contacted me and did not meet the age range my profile listed. I list 18-50, but saw a number of older than 50 women contacting me. That didn't bother me, though. I also contact women whose range is "close" to my age. So, I certainly wasn't offended. I felt guilty sending back "Not Interested", for the ones I did, but figured that was better than leading them on.
I would also guess that some women who I had exchanged emails with but had been silent for a little while saw my banner and finally wrote back. I think I also received a better interest factor because ladies saw my banner ad and assumed someone thought I was attractive because I was up on there.
Has it worked out to find the "one"? No, but I am actively communicating with a handful of ladies. Who knows?
I'm bummed that I am about to run out of contacts (I have only 7 left), though. I am not sure I can justify to myself spending more than the initial $100 for 3 months that I already did. It is a shame that I sent all those emails to ladies who responded once, but then stopped writing. Not sure why that is happening. I don't think I am "scaring anyone away." I don't think I am a bad conversationalist or letter writer. I am thinking that the ladies probably don't have the same contact limit, so they see nothing wrong with writing a letter even if they aren't seriously interested. That leads us to use up one of our available contacts on them when we didn't realize there probably was little chance for success.
Anyway, thanks for your quick response to my questions since I've been on this site. I hope it helps me find a lady who's interested in me, and vice versa. We'll see…
Amro's feedback

It was really good. Profile received a lot of attention. Only thing I learned is that I should not respond to everyone so quickly and just gather EOIs first. 🙂 Then decide who to speak with after as there was a 50 limit… I have since upgraded, so that's not a problem. If there was a way to make sure only people from a certain geographical location or city can see the profile, that would be nice… but not a major issue. 🙂
Overall, great!
Would you like to be promoted on Elenas Models?
You can also get promoted on the site, and at least double the number of responses you receive from women.
How to do it:
Purchase a Platinum or Gold membership. We recommend Platinum, so you do not run out of contacts and can communicate with any woman you want; as some ladies will drop out, which is a natural occurrence on all dating sites.
Ensure your profile photos are of good quality. You do not have to have professional photos but you definitely need a well-lit photo of you in a collared shirt and long pants. Or, if you are an athlete, we may accept a photo in a sports gear.
Complete all fields in your profile. Write something fascinating about your interests, personality, and message to a future partner.
Have reasonable requirements. If you want to meet a lady who is 20+ years younger, it is unlikely we will accept your profile for promotion.
Once this is done, write to us through Help Desk asking to promote your profile. We will check it, and maybe you too will be able to double your response rate!

Read also:

>> All articles (in English)

Share this article