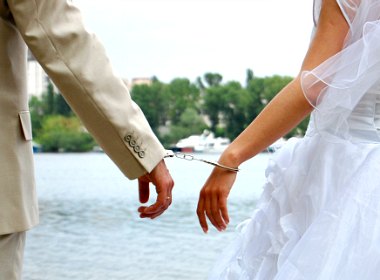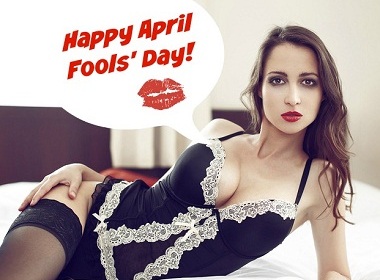 Would you fancy a fairytale romance with a gorgeous girl who is totally in love with you, just the way you are? For the April's Fool Day we are releasing a quick and easy to follow method of dating Russian brides, used by thousands of men worldwide.
Fairytale Russian Brides
The Russian brides from fairy tales simply want a man who likes them. Your age, looks, and financial standing do not matter. Don't worry, they will do all the work for you. Just register on one of the dating sites that offer paid correspondence and chat (also known as PPL) and within minutes you will be getting dozens of requests from stunning young girls and pretty ladies.
Regardless of your age or what you write in your profile, the requests will be coming from all types of ladies. Photos will be hot and sexy, and the letters will be quite forthcoming. Pick any woman you like and start chatting. All of them will be excited to talk to you. There is basically nothing you need to put any effort into, except for topping up your account with more money to enable back and forth communication.
Whatever you wish to do, find a bride, a wife, or just simply chat online, the cute PPL beauties will be OK with that. From time to time you will be getting charming photos that make you even more thrilled. Lingerie and swimsuit shots are abundant. That's what dating fairytale Russian brides is about — getting exactly what you want to hear and see.
One small detail, you will be requested to pay for all the mails, photos, and chats. But what a big deal, you are going to be in a fairytale romance that you have always dreamed about!
Depending on how much you can afford to spend weekly, you could be exchanging as many chats, letters, and photos as you wish. Every your mail will be answered timely and politely. You literally cannot offend these beautiful Russian girls, they are always cheerful and easygoing.
Your dating life and dreams have the chance of going on forever. You can brag to your friends about your magic love affair, show them pictures and letters. It's wonderful.
Word of Warning
To maintain the grand fantasy, the best is not to attempt to meet in reality. Why?
First, the chance of you actually sitting across the table from one of these beauty queens is slim. Quite likely, the girl sold her photos to the pay-per-letter agent and never intended to meet any of her suitors in person. Professional letter writers, who have been trained how to keep men hooked, are communicating with men. Some agencies request "brides" to provide a 2-3 new selfies every month, to be convincing.
So, if you decide to visit, you are unlikely to meet these sweet-looking young ladies in person. The popular option for such cases is to inform the man on his arrival that the woman he came to see had to urgently leave the city. Attending to a sick relative in the countryside is a standard explanation. Other excuses include a sudden business trip, death in the family, etc. In short, you travel half the world to see her, she is not there. (But you can meet other girls, for an additional cost.)
In the rare chance that you can actually meet the person from the photos when you visit, she is probably paid to be there. Besides, she may look quite different from her photos. Less a model poster and more the girl next door. But you probably don't mind, she still looks pretty good, if not totally dazzling.
The meetings are accompanied by a translator, who is likely to be the actual person you'd been talking to all the way (they need to know what you have been communicating about for months prior to your visit). The meetings are nothing but meals at restaurants (and maybe some shopping for presents for your beloved). If you hoped for some intimacy or things like that, a peck on the cheek will be perhaps the most you could be expecting.
In short, you are arriving to meet a prospective bride, thinking the person really likes you. In reality, you are customarily meeting someone who couldn't care less about you, never heard about you before this day, appears bored and struggles to even fake interest. You are told that it's due to the cultural differences and you prefer to believe the explanations.
But if you are not a complete fool, you realize that things are not what you thought they were. This can destroy your fairytale Russian bride saga, or, if you are good at self-deception, you may go on even after that (some men do, as this story on Dr. Phil demonstrates).
Moreover, I bet your Russian brides are actually from Ukraine… That's where this scheme developed to a colossal scale. There are potentially about 30,000 people employed in Ukraine to pose as brides in dating chats. New sites offering pay-per-letter (PPL) communication with gorgeous females pop up nearly every month, this is how profitable this online setup is.
(If your Russian bride from a PPL site is from Russia, you still have a chance it's not a complete fraud. If your virtual girlfriend is from Ukraine, more than likely you have been taken for a ride.)
This is another comment I received on the blog the other day, confirming how it works (the original text edited for clarity and brevity).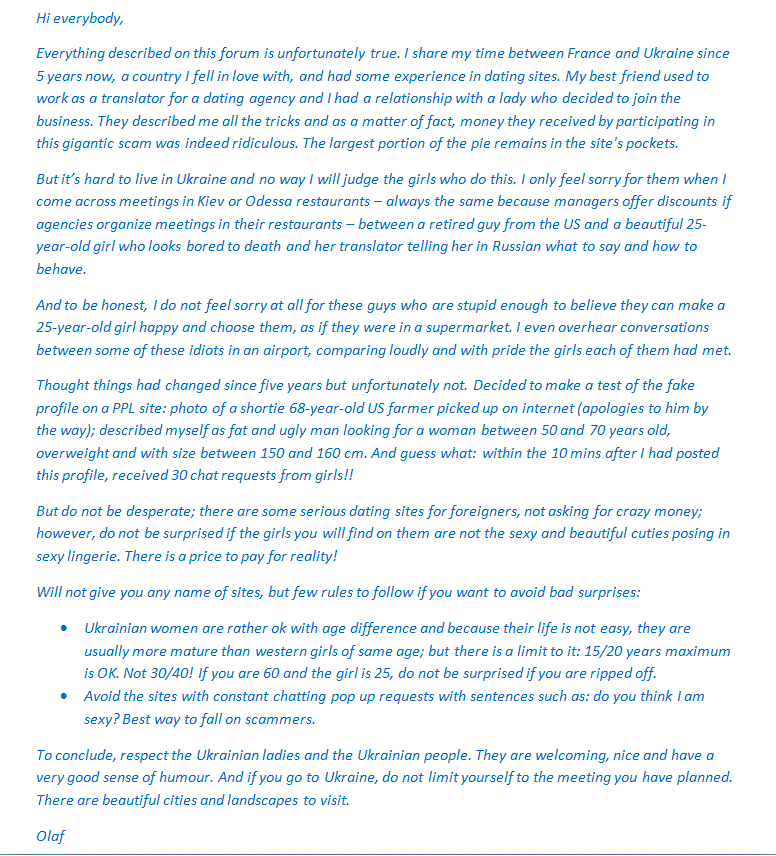 The Foolproof Way of Dating Russian Brides
If all you seek is an online dating adventure with a predictable result and constant stream of only positive emotions, follow the method described in the first chapter of this post. It is the only way to ensure 100% that you are getting exactly what you are after.
Sure, it costs a bit of money, but what quality entertainment doesn't? You are being talked to by a real human being, who is nice to you in their writings. (What they really think of you is quite another story; "fool", "idiot", or "moron" are some of the kinder words used by the personnel of paid dating chat sites talking about customers.) It may be even cheaper than therapy or counselling. If you never attempt to meet in person, there is no hassle and no hard feelings. Just the pleasure of being in a perfect virtual relationship with a supreme Russian bride, who gets you. Leave it at that and everybody's happy: the dating site that set up the PPL scheme, the workers that type the letters, and yourself who is getting all the attention and love. What not to like?
However, if you wanted something real, the foolproof method described above won't work. Real women don't behave this way. How many times did you have a woman coming onto you in a bar and offering her affection? As many times as you discovered this was to be paid for.
The same thing here. Russian women also don't throw themselves at foreign men, desperate for attention. It's quite the other way around: Russian girls expect to be chased and courted by men. The dating rules require a man to be the leader and initiate all the moves.
In other words, you actually have to put in efforts and avoid any errors that can put a lady off. One tiny mistake and she may decide you are not the right man for her. Real women are not as patient and tolerant as virtual Russian brides, who are paid to talk to you.
Does it make sense? I hope it does.
In short: the paid chat scheme is as close to paid love as it gets. If you want a real relationship, you cannot be paying for that. Because real feelings are not for sale.
Real Relationships
If you want a real relationship, direct communication with no pay per letter is the only way. There is no need to pay for each message, but you also cannot hope that every girl will be in love with you. You are the one who is supposed to be courting them, not the other way around. There are some little rules and etiquette, nothing that cannot be learned. Lots of guys manage to do it right.
In short, it's doable! If you want to do it.
Just a few of Elena's Models real couples: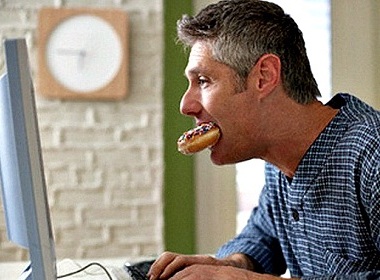 Read also: