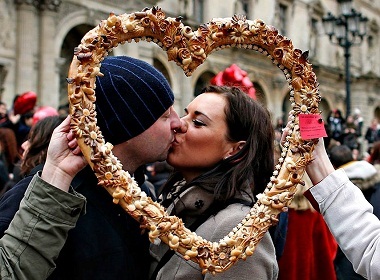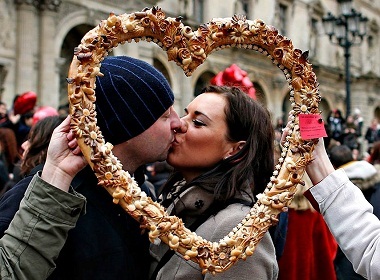 Valentine's day has a special place in the hearts of Russian girls seeking partners abroad. Despite some recent debates in Russia about the value of a Catholic holiday for Orthodox Christians, people still celebrate it widely and it's a much loved event for couples and singles alike.
Over the next week we will be bringing to you some amazing St. Valentine's stories of Russian and Ukrainian girls, how their local boyfriends and husbands surprized them on the day. We have some really touching tales of romance and love. Contrary to the popular belief, Russian men can be very romantic.
Alternative to St. Valentine's Day in Russia
Russia introduced its own alternative to St. Valentine's day in 2008.
The day of Saints Peter and Fevronia, who were a husband and wife that died on the same day, is celebrated as The Day of Family, Love and Faithfulness on 8 July.
The two saints lived in 13th century and were canonized in 16th century.
Note the typical Russian inclination towards love being validated only when it's about a serious relationship and a family. This is the feature that many foreigners notice when visiting the country for the first time: Russian girls are strongly family oriented.
Once The Day of Family, Love and Faithfulness was introduced, Russians were informed that Valentine's Day is a holiday commemorating foreign values and they should not be celebrating it.
The Day of Saints Peter and Fevronia is heavily promoted in Russian media.
Valentine's Day Celebrations in Russia, Ukraine
However, Russians still enjoy going out for dinners and giving each other presents on 14 February. Bars and restaurants organize events and offer special menus, bookings for couples. There is The Longest Kiss competition in Sokolniki park in Moscow in 2016, giving away a trip to Italy as a prize. Other parks and venues take the chance to gather crowds, too.
In a way, now 14 February became the day of lovers, while 8 July is the day of married people. Russians call St. Valentine "The day of all lovers" ("The day of all people who are in love" — "den' vsekh vluyblennykh").
Ukrainians don't have an alternative to St. Valentine and celebrate it with a great excitement. Preparations start weeks in advance. There are parties organized in clubs, other events. In Kharkov, Ukraine, you can even ride a "Tram of Love", which is decorated with red and pink balloons and hearts.
Alternative events for the ones "who are not in love" are also organized for singles.
Valentine's Greetings
Some common greetings in Russian:
Happy Valentine's Day: С днем Святого Валентина!
Wishing you lots of love on St. Valentine's Day: Желаю вам много любви в день Св. Валентина!
Best wihes with St. Valentine: Мои лучшие поздравления с Днем Влюбленных!
Be my Valentine: Будете моей Валентиной?
You can also translate some custom greetings through an online translator.
Here are a few Russian sites offering St. Valentine's cards:
Any English card that you find online is also OK. Easier to save the card as an image, rather than sending a link to it through email.
See Elena's Models Facebook page and YouTube videos for more ideas on St. Valentine's greetings for Russian girls.
Video: Love Confession
Why not record your very own love confession for your special girl? Translate your greeting through an online translator, listen to the audio, learnt he lines, and record a short video. This may be the best present for the girl of your dreams!
See how cool it may look.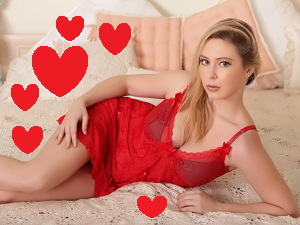 Read also: