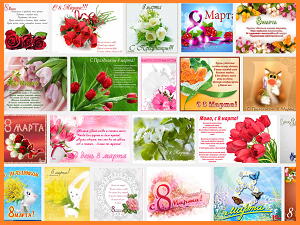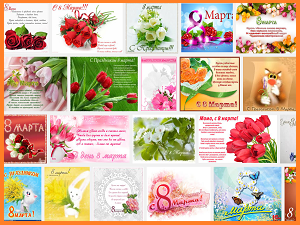 The International Women's Day is celebrated on 8 March annually. You may observe it being mentioned briefly in daily news on the day in your country — but blink and you miss it.
However, in Russia, Ukraine, and some other countries of the former USSR Women's Day is a major public holiday, which may only be compared with the magnitude and warmth of Mother's Day. This holiday is celebrated every year on March 8, with both males and females getting a day off work.
It is a celebration of all things feminine, from little girls to older ladies. Flowers for women are the necessary mark of this day, with red tulips, mimosas, and narcissuses being traditional early spring favourites. Greeting cards are also a must.
The celebrations start at work on the eve of the Women's Day, where men put together a corporate party and give presents to their female colleagues. Kindergartens and schools boast their own festive bashes with songs and dances, and little gifts for girls and female teachers.
Husbands acquire beautiful flower arrangements for their wives to surprise them early in the morning, and then visit mothers for lunch with greeting cards and more blooms. Presents like jewellery and candies are also popular.
In 2015 8 March falls on Sunday, so it will be a long weekend for Russian and Ukrainian women. With so many parties and celebrations, every lady is getting some recognition of her femininity, however, the most important one always comes from the man in her life.
Being basically an occasion when men celebrate women, every lady you are communicating with will expect some kind of greeting on that date, much alike during Christmas festivities. A hand-made card or flower delivery for this day will be appropriate for a special friend.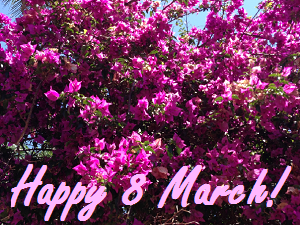 But otherwise, even if you haven't found the love of your life as yet, express your appreciation to all women in your correspondence through your personal blog or a virtual greeting card (I recommend you master one yourself in any graphic editor on your computer, as it's a nuisance for ladies to access cards online at other sites).
On Elena's Models, you can attach a photo file to any message you post. If you design the card yourself, it ensures nobody else will have the same one.
Don't forget! It will upset a Russian or Ukrainian girl if you overlook Women's Day, and it will warm up her heart if you remember to express your sincere greetings and good wishes. Wishing some positive and nice things (such as good health, happiness, career successes, etc) is a custom in Russian greeting tradition.
Read also:
>> All articles (in English)